Russian army paints 300 military KamAZ trucks for "humanitarian" mission
69
The "humanitarian escort" is accompanied by Russian army men.
The soldiers have posted photos and videos of how the "aid" for Donbas is being loaded on the military KamAZ trucks. "All the KamAZ trucks are military ones, they were painted white in a couple of days", - a Russian soldier Semen Borisov wrote on his VKontakte page.
According to him, about 300 trucks were loaded.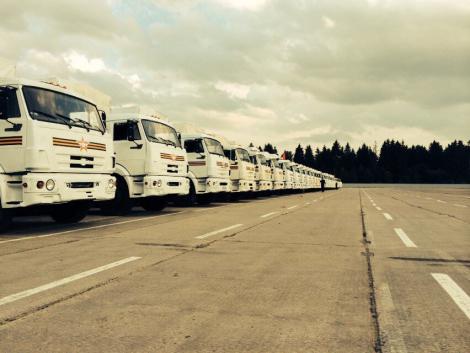 As it follows from the message, published on 4.01 a.m., they started the preparations long before Putin announced the intention to send a "humanitarian escort" to Donbas. It can also be clearly seen in the video that the trucks are located near a military base, surrounded by a significant number if militants. At the same time, the Russian authorities claim that there will be no militants coming with the humanitarian aid.
We would remind that on Monday Vladimir Putin claimed that Russian would send its "humanitarian escort" to Ukraine. Ukraine's president suggested to arrange a humanitarian mission under the umbrella of the International Red Cross Organization, which has already been supported by the US president Barack Obama.
The European Commission will have an emergency meeting in order to increase its assistance within the UN humanitarian mission. The International Committee of the Red Cross organization confirms the readiness to provide assistance in delivering the humanitarian aid to Ukraine, but such an assistance rules out an armed escort.
The "humanitarian escort" has already arrived to Rostov region.