Lukashenka: Nationalist policy is one of the reasons Ukraine lost its territories
23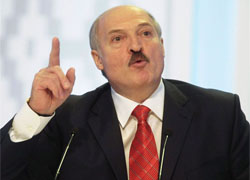 "War in Ukraine affects Belarus," Aliaksandr Lukashenka declared at the press conference on January 29.
In his words, already several tens of thousands of refugees are in the territory of Belarus. "We have to save our people, it is not other people who came here with kids. It is hard", Lukashenka stated.
We have to take a tough control of the border. I have begun to refer to the border issue more often. I often hold events from a military perspective. But I am the Commander in Chief of the Armed Forces and cannot but react to events in Iraq, Syria, adapting my Armed Forces to a modern warfare, making conclusions. And there is a war next to us. I am forced to react, but it costs money. This is not war yet. The key point is that it should pass us by.
Therefore, in the dictator's words, he is "compelled not to publicly intervene in these processes".
I'd like we altogether , Europe, seemed like not much interested in this crisis, the United States, not worrying about it, and Russia involved, as well as Belarus with a real danger that these events may occur in here and Russia, make a greater effort to bring the war to an end", he stated.
The dictator noted that the nationalist policy was one of the reasons Ukraine had lost its territories