Lukashenka to Ukrainians: Crimea is not your land
130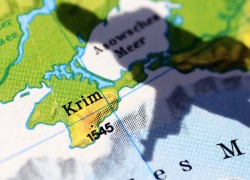 The Belarusian dictator does not understand "why Russia is being pecked" by other countries over this issue.
Lukashenka believes that Russia is too busy to unleash a conflict with Belarus.
"Russia is too busy for that [starting a conflict with Belarus] now. Get these ugly thoughts out of your head," Lukashenka said on Thursday at the press-conference in Minsk, Interfax reports.
The ruler has stressed that statements of some politicians that after Crimea Russia's president Vladimir Putin will go to Belarus to wage a war, are totally unfounded.
"Could it be possible that we, Russians, are going to fight with Russians? I cannot imagine that at all," Lukashenka observed.
Continuing the topic of Crimea, he noted that he does not understand why Russia is being "pecked" for it. "Is Russia guilty of it? Probably, yes to a certain extent… My position on Crimea is well-known," the president said. "If it is your (Ukrainian – "Interfax") land, you should have been fighting for it. As you have not been fighting, it is not your land," the Belarusian leader added.