Belarus's Eurobonds fall after Lukashenka's statements
32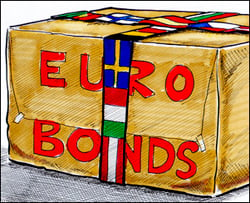 The price of Belarus's Europbonds has reached the historic minimum.
It happened after Aliaksandr Lukashenka's statements about a possible restructuring of the country's foreign debt, according to the data from the Borse Stuttgart Stock Exchange, BelaPAN reports.
On the morning of January 29, the price of seven-year and five-year Eurobonds was 89% and 97% of the nominal value respectively. Belarus's securities slumped in the second half of Thursday after Lukashenka's remark about a possible restructuring of the country's foreign debt, according to the data of the Borse Stuttgart Stock Exchange.
The price of bonds with a maturity period of seven years fell to 60% of the nominal amount; the prices of five-year bonds dropped to 70% of the nominal amount. The yield on seven-year bonds, which reflects the approximate cost of new borrowings for Belarus, reached 27%.
Aliaksandr Lukashenka said on January 29 that Belarus's foreign debt could be restructured.
"If the situation is hard, we will talk about debt restructuring," the Belarusian ruler said. He later corrected his answer, worrying that some may understand it wrong, and explained that he meant refinancing: "I said that we would like to refinance our foreign debt. I has been informed that bond holders, Eurobond holders are worrying. They think we are on the brink of default."
The Ministry of Finance, said on the evening of January 29, reacting to the falling price of Belarus's Eurobonds, that Belarus "has the necessary volume of resources and the set of financial instruments for the sake of absolutely honoring its debt commitments in 2015".
"Debt restructuring is out of the question. The government and the National Bank are working to raise funds to refinance part of the debt commitments by floating government bonds on the home and foreign markets and by taking out interstate loans," the Ministry of Finance stressed.
Belarus issued Eurobonds with a maturity period of five ad seven years totaling 1.8 billion dollars in 2010 and 2011. The Belarusian government considers the issue to be an instrument of attracting foreign loans in foreign markets.
Belarus is to pay the five-year Eurobonds in summer 2015. The country has to spend almost 1.2 billion dollars on the bonds payment and service this year. Belarus has to pay around $4 billion of its foreign and internal debt in 2015.