Alexievich - our Nobel Prize winner!
172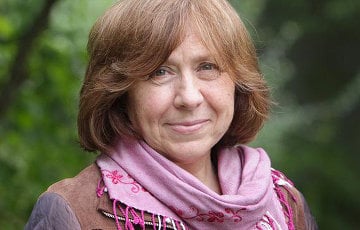 Writer Svetlana Alexievich is awarded the Nobel Prize in Literature 2015.
Sara Danius, permanent secretary of the Swedish Academy, informs. The Award ceremony was broadcasted live on an official Nobel Prize web-site.
Svetlana Alexievich is the first Belarusian, who is awarded this Prize.
Announcement of the 2015 #NobelPrize in Literature http://t.co/kzPyYaA8dO

— The Nobel Prize (@NobelPrize) 8 октября 2015
For several years she has headed ratings of the largest bet shops of Europe as the most likely winner. At the instance of the Swedish Centre PEN International, she's gained nomination for the Nobel since 2002 for her series "Voices of Utopia" (it ended in 2013 with "Second-hand Time", there are six books of the series, such as "War's Unwomanly Face", "Zinky Boys", "Enchanted with Death", "The Last Witnesses", "Voices from Chernobyl"), BelaPAN reports.
Alexievich has been awarded many international awards, including: Ryszard Kapuściński Award for literary reportage-2011 and 2014 (Poland), Peace Prize of the German Book Trade - 2013, Prix Médicis essai (2013, France), "Angelus" Award (2011, Poland), Readers' Choice Award "Big Book" (2014, Russia), Pióro Wolności Award (2013, Poland). Alexievich has the title in the Order of Arts and Letters of the French Republic.
The Swedish Academy, which is entrusted to determine the winner of the Nobel Prize in Literature, has received 259 proposals with 198 names of candidates this year. 36 of them were nominated for the first time.