Belarusians about "sponger tax": Is situation so bad?
150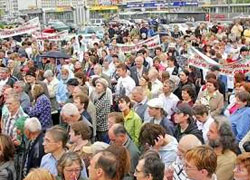 Who is the target of the new tax?
The tax on spongers, which will also hit housewives, is expected to be introduced soon. Many mothers with one or two children, who don't have privileges of families with many children, will have to pay an annual tax of 20 base amounts. It seems that money from housewives will be the main source of funding the budget by means of the sponger tax, camarade.biz reports.
Whom will the tax hit?
It will be a problem to collect money from homeless people and illegal businessmen. Did the authorities design the tax for law-abiding families with housewives?
Lukashenka hasn't yet signed the decree on promoting employment, under which "spongers" will have to pay a tax of 20 base amounts a year. He said at a press conference on January 29 that the document, which had been introduced to him two times, was sent back for revision and would be ready within a month.
Tax minister Siarhei Nalivaika said in the middle of January that the "sponger tax" would be imposed on asocial elements, "a sort of social leeches, illegal businessmen and those receiving wages under the table".
Housewives, including mothers with children, also fall under the category of spongers, but mothers of many children or mothers of disabled children are likely not to pay the tax.
The country's leadership apparently thinks that if a woman decides to devote herself to raising her children, keeping the house, caring for her family, she is a burden on society. As the president said at the press conference: "They cannot remain at home until the child is 14 or 7 years old."
Remaining at home to care for a child over 3 years old will be possible, but mothers will have to pay the state.
How to make "spongers" pay
The tax on "spongers" will allow raising additional 400-450 billion rubles a year, according to the media. However, a few questions remain.
For example, how to make pay the tax an unemployed alcoholic who begs for money near a shop to buy a drink? It would be naïve to think that his wife, if he still has the wife, will pay the tax for him. Even the most patient wife will get a divorce and try to kick her ex-husband out of the house.
The number of homeless people is likely to grow after the decree takes force, but the state will not receive money from asocial elements. How can one collect money from the homeless? On the contrary, the state must help them with food.
It is doubtful that the state will raise significant money from those involved in illegal business. Illegal businessmen do not show their wealth. It is also a problem to find such people. The appropriate bodies were not successful in revealing illegal businessmen in previous years if even the tax minister admits the problem.
Why do the authorities think illegal businessmen will pay the tax? Moreover, paying the "sponger tax" does not free from criminal punishment for illegal business activity. Such people will invent tricks in order not to attract attention of tax inspectors to their unemployment status.
Some will register at the employment centre, the process we can already see. Some will find a part-time job. Some will go to work in Russia, moreover that deputy minister of taxes Dzmitry Kiyko promised that Belarusian migrant workers would not pay the "sponger tax".
So, it seems that the above mentioned 400-450 billion rubles will be raised mostly from housewives.
There are 123,000 housewives in the country. If all of them pay 20 base amounts, which is 3,600,000 rubles as of today, it will give 442.8 billion rubles.
I will pay for my wife, but it's wrong
Sviatlana, the wife of miner Aliaksandr, does not work. The couple has a four-year-old son. Aliaksandr recalls how he heard about the introduction of the tax on housewives:
"My colleague told us the news. We thought he was joking. We didn't believe him, because a normal country should care about interests of children and families. It is for the benefit of my family and the kid that my wife keeps the house and cares for our child instead of working rotating shifts at a factory and returning home tired."
Aliaksandr says a man begins to respect himself if he returns to his clean cozy house where his smiling good-looling wife waits for him. A child needs an attentive tender mother, not the mother that hurries to take him to kindergarten fearing she will be late at work.
"Why is my wife considered to be a sponger? Firstly, my income tax is higher that income taxes of four workers at some jobs. Secondly, my wife and I pay VAT when we buy goods and services. Even a jobless alcoholic pays something to the state when he buys a bottle of alcohol. Of course, I will pay this strange tax for my wife. She won't work until our son goes to school. Is the situation in the country so bad, or is the government so stupid?" the miner asks.
We hardly survive even without paying the tax
Alena, the mother of five-year-old Lera, says she would be happy to work because the family doesn't have enough money, but her daughter gets sick often and has to miss kindergarten for two or three weeks. Alena had to quit a private firm six months ago. The boss didn't prolong the contract because the firm doesn't need employees who take sick leaves too often.
"My husband and I decided that I should stay at home for a while. We rent a flat and hardly survive. How will we live if we have to pay an additional tax?" Alena says sadly.
Caring for children or juvenile detention centre
"The country has problems with juvenile delinquency and drugs, but they want to impose a tax on the women who sacrifice their job to care for their children," a 60-year-old pensioner, a grandmother of Maksim, 12, and Dasha, 14, says angrily. "They'd better encourage moms to devote themselves to their families. Children is the country's future."
The pensioner doesn't understand why it is more profitable for the state to open another youth detention centre or a hospital for drug addicts.
"Everyone sees that we have many problem children, also because parents spend much time at work. Not all families have grandparents to help them," she says.
False approach
Mikalai from Salihorsk says he insisted that his wife leave her job two years ago, when their son was 13 and a half.
"Like many people in our town, we worked rotating shifts. Our son and younger daughter had to spend much time alone after my mother died. A company of drug addicts appeared in the neirbouhood. A boy from that company came to us when I was at home unexpectedly. I threw him out, but he could come again when both my wife and I were at work. A guy from our block of flats, who is just two years older than our son, got a jail term. We began to worry. We are not wealthy, but our children are more important than money. We fear they can choose a wrong path without our attention," he says.
Mikalai's wife became a housewife. Control over children increased, they do better at school and became quieter, Mikalai says.
He notes that his wife sometimes says she misses her work at the factory. Perhaps, she can get her job back, because she is a good specialist, Mikalai says.
"I think it is wrong to impose this tax. It is bad if it makes mothers go to work instead of staying with children for their safety and health. This is a wrong approach of the state," he concluded.