Revolt in Dobrush: 300 workers from China head a course for Homel
120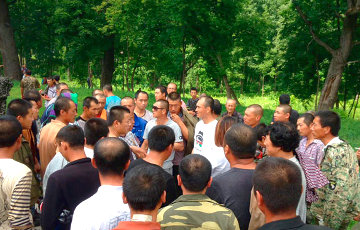 (being updated) Riot policemen with shields and baton follow the people.
As an eyewitness Chrystsina Yauhenieva writes on Vkontakte there are about 300 people.
This morning in the community "This is Homel, baby" appeared photos of Chinese workers moving in the direction of the regional center. As it became known later, these are builders working on construction of a new paper mill complex.
"I was leaving Dobrush, and they were taking almost the whole road", another Homel resident writes.
"They have arrears in wages for two-three months, so they do not want to work for free", one of the locals explains.
"I was driving to work, the road was blocked with a van, then the Chinese went out and shouted, and there were lots of cops, another eyewitness writes.
"They have already passed Larischevo, our mayor is there, they are negotiating", one more Homel resident adds.