Aliaksandr Yarashuk: Protests in Dobrush is a miniature model of what Belarus will face after 2015
17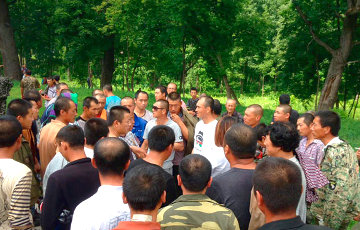 The Belarusian authorities have no chances to provide payment of normal wages to people.
News was spread in Belarusian social media on July 2 that Chinese workers rebelled in the Homel region. Three hundred of workers marched from Dobrush to Homel and decided to reach Minsk. The Chinese workers were involved in the construction of a new facility of Geroy Truda paper factory in Dobrush. They haven't received wages for the last few months. The workers didn't reach Minsk. They are said to have received their wages.
It became known today that Chinese workers didn't appear at work because they received money only for the last two moths. Dobrush residents think Chinese employees have rather high wages and say they would like to work at the construction site for such wages. However, they cannot do it because the overhaul programme for Geroy Truda factory is an investment project. The China Development Bank issued a 350mn "tied" loan under an agreement with the Belarusian government. According to the agreement, the works must be performed by a Chinese construction company, and the new production facilities must have Chinese equipment.
Charter97.org asked Aliaksandr Yarashuk, the head of the Belarusian Congress of Democratic Trade Unions, to comment on the situation from the social and economic points of view.
"It's not new that China takes all decisions on issuing loans in accordance with its interests. It's funny to hear from Belarusian top officials that China is an altruist that helps us.
It is very important for the Belarusian public to know that China is much more liberal economically than Belarus. They have such an atavism as communist ideology, but leaders of the Chinese communist party rule the country on more democratic principles than the Belarusian authorities do. For example, the term of office for top officials is limited to 10 years.
In accordance to the peculiarities of its worldview, China takes decisions on issuing only "tied" loans. Belarus couldn't have received any loans other than "tied". It means that the Chinese will use each their loan inside our country.
This is what happened to the Dobrush-based cardboard factory Geroy Truda. We know that about 900 Chinese workers arrived there. They earn quite good money for Belarusian regions and the country in average – 7-8 million rubles. Of course, Belarusians workers in Dobrush say they would be happy to work there for such money. 900 jobs for such a small town as Dobrush is a good opportunity to be employed for at least a few years.
But we have what we have due to the policy of "tied" loans. On the other hand, we can only guest what will happen to the cardboard factory. The Chinese constructed cement plants in Krychau in the same way, and it became yet another proof that Belarusian authorities don't have a well thought out strategy.
Cement plants were built in the hope that they will produce cheap cement that will be sold in Russia. It turns out that it is more expensive than Russian one. The authorities decided the best way out is to begin the construction of the second concrete belt road to use this cement.
We can only guess what will happen to the new facility of the cardboard factory in Dobrush. We already have a pulp and paper mill in Shklou that still doesn't work at full capacity.
As for the situation in Dobrush regarding the delayed wages, I don't agree with the opinion expressed by many that Chinese workers can defend their rights better than the Belarusians do. I assure you that Belarusian workers don't differ from Chinese ones and workers of other nationalities. If Belarusian workers don't receive wages for two or three months, they will protest, too. It may be a grassroots strike, like recently in Maladzechna. It may be a grassroots march, like in Salihorsk where miners once marched 180 kilometres to Minsk.
You need to understand that if a person and his family are deprived of means of living, you can be sure that Belarusian workers will protest in one way or another. The form of protests is the other matter. I say it because the Ministry of Statistics published a press release yesterday, saying that the wage debt to workers grew to 2.1%. As many as 555 companies (by 111 more than in the previous month) owe wages to their employees.
We will live with it. This is the thing that will constantly accompany us. This is because the Belarusian economy is in a deep systemic crisis. The crisis was caused by our economic system that has become bankrupt, which is obvious. I mean the administrative system of economy management.
The events relating to delayed wages are not likely to repeat as often as we could expect in the near future. It's summer now, and many people go on holiday. I expect the situation to aggravate by autumn. It is unlikely that it will reach the critical level because this is the year of the presidential "elections".
We can only guess what will happen after the "elections". We will certainly face a devaluation. It is highly probable that the authorities will devalue the ruble significantly again. Maybe it will allow increasing exports and getting rid of excess stock to a certain degree. But firstly, it won't help for a long time because the economic crisis is systemic. Secondly, it will be accompanied with a fall of real wages and the consequences it may cause.
Events in Belarus after 2015 can repeat what recently happened in Dobrush. You needn't be an expert to understand that the Belarusian authorities, which have been creating the uncompetitive economy deliberately, have no chances to provide payment of wages in the amount suitable for a normal life.
We have grounds to say that the social and economic situation will develop absolutely unpredictably. But I'd like to repeat that I am speaking about 2016," Aliaksandr Yarashuk noted.