Residents of Biaroza district threaten not to vote in "election"
12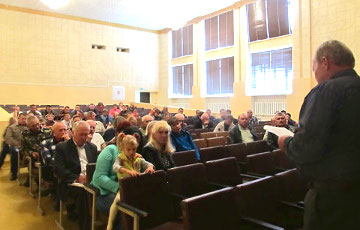 They wrote to Aliaksandr Lukashenka about it.
Residents of the village of Sporava of the Biaroza district threaten to ignore the election due to a conflict over a local lake. Baranavichy-based businessman Anatoli Zablotski rented it last year. Villagers are not forbidden to visit the lake and their children can't skate on the lake in winter, Viasna human rights centre reports.
According to villagers, the businessman built a house on the state protected archaeological site with the permission of the local authorities. Villagers say Zabalotski ordered a new survey, and the Academy of Science sent a reply, saying that the place wasn't an archaeological site, which, perhaps, was destroyed by lake waters.
Villagers also claim Zablotski destroyed the monument on the guerrilla grave with the permission of the local authorities, because it hindered the construction of a café.
If the ruler doesn't settle the conflict objectively and under law, dwellers of Sporava threaten to ignore the "presidential election".