Mikalai Statkevich: Goal of today's gathering is to return Belarusians the right to protest
56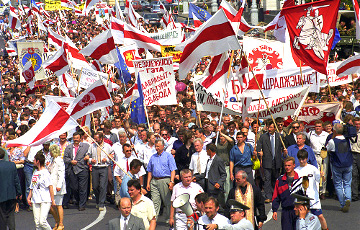 A mass gathering will be held today on Freedom Square in Minsk at 18:00.
The event was initiated by former political prisoner Mikalai Statkevich. He invited Aliaksandr Lukashenka to come to the meeting and made a list of questions that Belarusians would like the dictator to answer.
The politician took part in an online conference on the website of Radio Svaboda. Below are Mikalai Statkevich's answers to some of the questions about today's gathering.
"I don't understand why we should wait for October 11 to show society that the election was falsified even at the stage of nominating candidates. I am doing it right now and invite you to join the electoral gathering that will be held on Freedom Square. We don't have another way out except for continuing our struggle for free Belarus. We don't have another country," the politician said, answering a question about the "election".
Mikalai Statkevich underlined that "the society that has been living in fear for many years is able to explode unexpectedly". "One of the goals of the events, the first of which was a picket near GUM store on September 10, is to decrease the level of fear in society and return it the right to public assemblies. If we manage to do it, people will have an opportunity to express their protest in public," he said.
Mikalai Statkevich spoke about the strategy of opposition.
"I invite all to the gathering of voters on Freedom Square at 18:00 on September 23," the politician said. "We will wait for Mr Lukashenka there, hoping that he will answer the questions I prepared for him and other questions. If he doesn't come, I will consider that he answers 'yes' to all questions.
What concerns October 11, this date doesn't exist for me. If Lukashenka doesn't come on September 23, I will appoint another meeting for him. I will give him another chance, for example, on October 10, when the campaign will still be under way and all observers and media will work. We will gather and listen to him. If he doesn't come, we will decide how to regard this campaign, to vote or not to vote. We will also decide what we should do further. We'll also speak how beautiful Belarus would be without this person.
I realise my responsibility before the people who pin their hopes for free normal European and Belarusian Belarus on me. I cannot do everything. I know that if I am scared and give up my struggle, it will be a blow to ideals of these people. I don't promise to lead you to freedom immediately. But I promise that I won't stop however much it may cost me. My future doesn't belong to me in this situation."
Statkevich said at a joint picket with Uladzimir Niakliaeu and Anatol Liabedzka near GUM store on September 10 that a gathering of voters, which would focus on 21 years of Lukashenka's rule, would be held. The former political prisoner invited the dictator to the gathering. The politician prepared five questions for Lukashenka.
The first question is whether Lukashenka is going to cling to power "until his death". The second one is whether the kidnapping of well-known politicians was the reason for Lukashenka's desire to "stay in power at any cost in order not to bear responsibility for the events". The third question is whether Lukashenka is going to sacrifice Belarus's independence to stay in power. The forth one is about the decline of living standards, development of society and the state during his rule. The fifth question is about the deliberate russification of the Belarusians and a ban on national symbols.