Kommersant: Belarusian Oil Products Won't Go To Baltic Seaports
59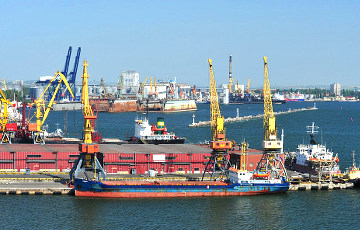 Russia has a plan of how to avoid shipments via seaports of Latvia and Lithuania.
JSC Russian Railways want's to make an unprecedented 25% discount for transportation of Belarusian oil products to Russian ports, so that not to ship the cargo through Baltic countries.
The Russian newspaper Kommersant writes about it.
As a source of information in monopoly has told to Kommersant, this week, the JSC Russian Railways board will consider the introduction of a 25% discount on transit of gasoline, diesel and fuel-oil residue from refineries in Belarus to the Russian North-West ports. The discount will make the Russian Railways tariffs for this direction be comparable with the tariffs for transportation via the Latvian port of Ventspils and the Lithuanian port of Klaipeda, and the attracted volume of highly profitable transportations of petroleum products will provide the JSC Russian Railways with additional revenue – about 8 billion Russian rubles per year.
The discount is supposed to be valid until the end of 2018. If the discount is approved, then it will come into force ten days after publication of the decision. JSC Russian Railways refused to give comments to Kommersant.
Let us remind, the Russian media have earlier informed, that the Kremlin proposed to capture the obligations of Belarus to export certain volumes of oil via Russian ports in an intergovernmental agreement, regulating the duty-free oil transportation from Russia to Belarus for processing at Belarusian oil refineries.
Today, more than 90% of the exports of oil products from Belarus is directed to the Baltic countries and Black Sea ports of Ukraine. To deliver oil to the West through Russian ports is more expensive in terms of logistics, as it lengthens the path. It was reported that a reorientation is possible provided that there are some benefits – discounts from the Railways and a guaranteed access to the pipeline capacities.