Pension Of Working Pensioners To Be Cut By 40%?
246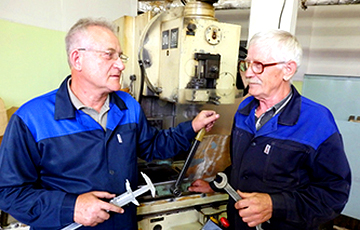 There are no money in the country, the economy is not working.
Several readers from different regions of Belarus have addressed the editors of "Narodnaya Volya" with the same question: Is it true that pensions of pensioners, who continue to work, will be cut by 40% in 2017? Those who called claimed that they had learned that information firsthand from the local social protection bodies.
– There are such rumours, but we have no official documents for approval, – officials in the department of pension provision of Committee on Labor, Employment and Social Protection of Minsk City Executive Committee explained. – Theoretically, everything is possible in our country. If they adopt such a document and order us to abide by it, we will withhold the money. There is already a decree that has raised the retirement age, a decree that has increased the length of pensionable service. In the same way, they can make changes to the law on pensions for working pensioners
– How much do those pensioners earn, who continue to work?
– Differently. Pensions of those working pensioners, who get small allowance, may be left unchanged. The pension is paid in full, if an individual coefficient of a working pensioner is less than 1.3. Pension of those pensioners whose individual coefficient is more than 1.3 also depends on labour experience and type of pension. But it is possible to say what percentage will be withheld from the pension only after calculating the pension of a particular pensioner.
According to some information, today, the maximum that can be deducted from the pension of a working pensioner does not exceed 25 percent. 18-20% are withheld from the pensions of those who have a big individual coefficient and a long labour experience. If 40% of the pension of working pensioners will be withheld from the New Year, then will it make sense for them to continue working?
But, on the other hand, it's not possible to survive only on a pension. Maybe it's better to get a salary, but to give up a large part of the pension.
– This scenario is absolutely possible, – the former Minister of Labour and Social Protection Aliaksandr Sasnou thinks. – There are no money in the country, the economy is not working, but the leaders doesn't want to carry out reforms because they fear to lose power. They are seeking any options for robbing the population once again. And the population allows them doing this. Therefore it is surprising that there are rumours of 40%. They can even stop paying pensions to working pensioners.