Public Utilities Rates Will Be Reduced Not Much And Not For Long
28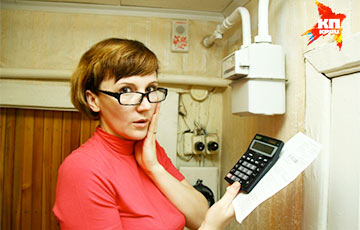 The state budget has no money to subsidy the housing and utility sector.
On March 1, new tariffs for housing and communal services will be presented to Aliaksandr Lukashenka. The governor himself demanded that a week ago, and it was confirmed by Chairman of the State Control Committee Leanid Anfimau on air of the TV channel Belarus 1.
The January rates, he said, had been formed not by calculation, but "have been pulled out of a hat." And he said that they would be reduced, though did not specify how much. According to him, the working group of representatives of the State Control Committee, the Council of Ministers and the Presidential Administration recalculate the tariffs basing on real costs. Lukashenka himself is expected to approve the new tariffs, and they will not change until his further special notice, naviny.by site writes.
"It's difficult to predict whether they reduce tariffs for utility services or not after the president's roast, and to what extent, – it is only guesswork," – Director of the International Association of Property Management Henadz Kalionau believes.
"In theory everything can happen. If a private owner generates rates, such as for the intercom service, – nobody will force him to reduce them. But if the monopolist generates rates for heat, they can be reduced. There is a question – who will bear the cost? If at the expense of the budget, it still will be people who pay for the reduction of tariffs. But if at the monopolists' expense – it is another matter. This will make heat and water suppliers to look for internal resources of economy," – the expert said.
He suggests that the figures in utility bills for February will be less than for January, because they will be recalculate due to the admitted technical errors. In addition, February is a short month, there were no severe frosts, therefore, less energy was consumed.
Those who had the power to increase tariffs, have the power to reduce them, head of Project "Kosht Urada" Uladzimir Kavalkin said.
"This will be done in order to create a good image of the government in the eyes of people, but will be done for a short term. Think of the consequences of the action "Stop Petrol," which resulted in reduced prices for motor fuel. After some time, the prices just the same rose. And with the tariffs for utility services it'll be similar. For a short term they can be resumed back, and then increased in the non-heating season," – the expert believes.
The state budget now has no money to subsidy the housing and utility sector at the same level. Therefore, tariffs for housing and utilities will be insignificantly reduced only for a short period of time. In addition, the increase in tariffs is a condition of the International Monetary Fund, in order to give a loan to Belarus. And the Belarusian leadership needs now those three billion dollars badly. In addition to our "heavy" utility bills.