Matvienko: I Can't Bear To See Russians Facing Harassment Abroad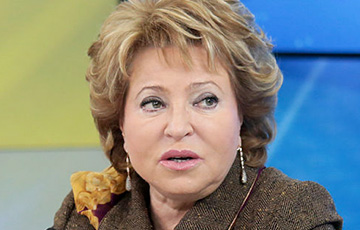 The speaker of the upper house of the Russian Federation Parliament mentioned in her statement the Russians in Belarus.
Speaker of the upper house of the Russian Federation Parliament Valentina Matvienko said that Moscow would not tolerate the oppression of Russians in the countries of the former Soviet Union.
"The Russian people, Russian culture has become the object of harassment and persecution. One can cite many examples of infringement abroad upon Russian people's legitimate interests, provided for by the international law, in the field of language, culture and education. We know what is happening in this field in Latvia, Estonia, Ukraine, in many other countries," – RIA Novosti quotes Matvienko.
Matvienko has specified that Russia does not want to "look calmly at it." "Russia has supported and will support its compatriots abroad," – she said.
She added that a number of countries stoke tensions with Russia, Russophobia is being widely spread and there are attempts to "isolate Russian people from the great Russian culture" on the ground of their alleged disloyalty to the country of residence.
"If you call a spade a spade, this politics is mischievous. There are a lot of Russians outside of Russia, especially in Ukraine, Belarus, Moldova and the Baltic States ... No one has ever cited any facts, examples of their disloyalty or promotion of Russia's political and economic interests to the detriment of the country of residence," – Matvienko summed up.