25 Years Ago Our National Symbols Turned To Be The State Ones
31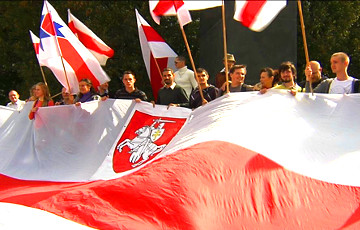 On September 19, 1991 Pahonia and white-red-white flag got the status of the state ones back.
The Supreme Soviet of the BSSR decided to change the name of the country: Belarusian Soviet Socialist Republic turned into the Republic of Belarus.
White-red-white flag and Pahonia coat of arms preserved their status until 1995, when the referendum initiated by Lukashenka returned modified Soviet symbols.
Pahonia coat of arms is more than 600 years old. An image of armed horseman was popular symbol in Eastern Europe. The first document depicting a horseman with a sword dates from 1366. Since the end of the XIV century the horseman was depicted on a background of heraldic shield on the seals of the great Lithuanian princes Jogaila and Vytautas.
Belarusian-Lithuanian chronicles of the first half of the XVI century account the creation of the emblem to a legendary Grand Duke Narimantas.
Pahonia was the part of the coat of arms of the Polish-Lithuanian Commonwealth unless its partition in 1795. After that, Pahonia as part of some provincial coats of arms was included in the State Emblem of Russia. By 1900, it was the main or constituent part of 22 coat of arms of the Russian Empire, three provinces and one region.
In 1918, Pahonia and a white-red-white flag became the state symbols of the Belarusian People's Republic; in the Soviet period they were banned, but remained symbols of resistance. As well as now.
Today at 7 p.m. there will be a rally "Avenue off the national flag", Kastrychnitskaya Square, Minsk. Leaders Zmitser Dashkevich, Juhen Afnahel and Pavel Vinahradau urged Belarusians to "raise the national flags along the avenue, testifying that the white-red-white flag lives and will soon again become the national flag of Belarus."