Belarusian National Congress: We Must Force Regime To Hold Free Elections
16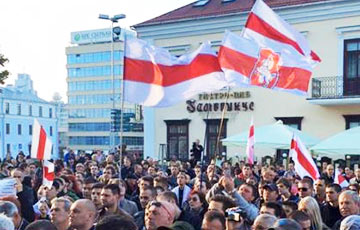 The Council of the Belarusian National Congress adopted a resolution upon the results of the over "parliamentary elections".
One of the Council members, leader of the movement "For Statehood and Independence" Uladzimir Niakliaeu has posted the statement of the Council of the Belarusian National Congress, adopted on September 19, on his Facebook page.
"Lukashenka's regime committed an insolent and cynical farce called "elections", which seriously jeopardizes the independence of Belarus given the conditions of the existing dictatorship and the threat of an aggression from the East," – the resolution says.
In connection with the above the BNC Council states the following:
"The so-called "elections" do not comply with the international standards and cannot be recognized.
The criminal appointment of "deputies" including the two representatives of the opposition changes nothing in the essence and actions of the authorities.
Belarus remains a territory with the authoritarian rule under the Russian control. The legitimate legislative power which could have protected the rights and the interests of the people still doesn't exist.
We point out that part of the democratic structures displayed inconsistency of their positions, incapability of strategic vision of the situation or of united cooperation.
We will work on further uniting of the democratic forces capable of fighting against dictatorship.
We are urging all democratic, political and civil forces to hold a common campaign "For New Elections and New Government!" Only free and fair elections may become the way out of the crisis to the improvement of the Belarusians' lives.
We are holding an action of protest against dictatorship on November 24, on the 20th anniversary of the anti-constitutional turn-over.
We must not sit and ask for free elections, but force the regime to hold them!
Power to the people!"