Lukashenka Praised Belarusian Team For Carrying Russian Flag In Rio
122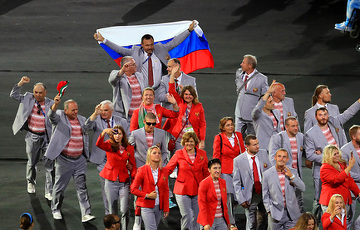 Lukashenka's press secretary confirmed that this is the official position of the dictator.
The press secretary of Aliaksandr Lukashenka Natallya Eismant said this in the interview with the Russian radio station "Govorit Moskva".
"It was the initiative of the Belarusian delegation to carry the Russian flag at the opening ceremony. However, I would like to stress that this is the state position, and the position of the President of the country and the head of our Paralympic Committee. We stand in solidarity with the Russian Paralympians," – Eismant said.
According to her, the case of Russian Paralympians arouse big questions because no one has provided evidence that they used doping.
"If they talk about doping, we are absolutely against doping, but not a single fact was provided proving that some Paralympians used doping and that they were suspended from the participation in the Games. Nevertheless, people for whom sport means something more than just sport were suspended from the Paralympics. This is our state position and the position of the President of our country," – the Lukashenka's press secretary summed up.
Earlier, the press secretary of the Belarusian Foreign Ministry praised a sports official for subservience to Russia, saying that ""he athlete acted like a man".
Let us remind that a representative of the Belarusian sports delegation Andrei Fomachkin carried Russian flag during the opening parade of the Rio 2016 Paralympic Games.
The International Paralympic Committee said that an investigation into the matter had been initiated following which the decision will be made on disciplinary actions.
The Russian athletes couldn't take part in the Paralympic Games due to the temporary suspension of the Russian Paralympic Committee (RPC) caused by the WADA's Independent Commission Report on state support of the use of performance-enhancing drugs in the country.