Belarusian Poets Commemorated In Kurapaty
2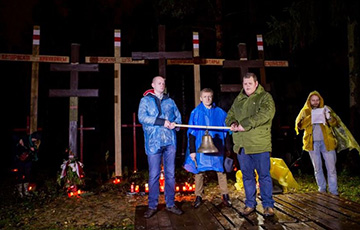 More than a hundred people attended the Night Of Executed Poets event.
80 years ago, on the night of October 29 th to 30th of 1937, mass executions of the Belarusian elite took place. During that night, the NKVD executed more than a hundred Belarusian cultural figures of different nationalities. Among them: Todar Kliashtorny, Mikhas Zaretski, Moisha Kulbak, Ales Dudar, Izi Haryk, Anatol Voiny, Mikhas Charot, Yuli Taubin, Platon Halavatch and others.
On the night of October 29 th to 30th, dozens of Belarusians read in Kurapaty poems of the poets repressed in the Stalin era.
Hundreds of candles around hundreds of crusades, but in the mountain people in the non-stop mode recited poems and sang with a guitar.
Despite the driving rain, about a hundred people gathered in Kurapaty on the initiative of Dzmitry and Anastasiya Dashkevich and Eduard Palchys. Among others, there were writers Uladzimir Arlou, Andrei Khadanovich and Uladzimir Niakliayeu, businessman Pavel Biarahovich, bards Anatol Ivashchanka and Aleg Mizula. The diplomatic corps was represented by Ambassador of Poland Conrad Pavlik.
Those present were handed around raincoats and coffee. Fires were made in the barrels, so that people could get warm. Some policemen were keeping the order.
In total, the Soviets repressed about 600 thousand citizens of Belarus. About 200 thousand of them were killed. The Stalinist regime, like the Hitler one, destroyed the elites of the under controlled nations, to suppress their ability to resist. The repressions were particularly massive in Belarus, because our country borders on the European countries, and that is why was considered to be potentially capable of rebellion and dropping off.