Children Faint Waiting Turn In Doctor's Office In Barauliany
21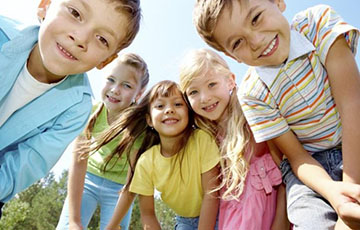 And at this time Lukashenka is building a VIP clinic, where "mere mortals" will be allowed only for money.
It takes a half of the day to visit a polyclinic with a child.
At that, one shouldn't forget to get prepared for the worst, mother of many children Ilona says in the report of the television channel Belsat.
"There are always a lot of people there, the atmosphere in the hall is stifling, little children are crying, being unable to stay in a static state – this is for three to four hours. Even if you have an appointment confirmation, it doesn't guarantee that in half an hour you will get in. And today I've witnessed not a small but rather an adult child of 10 years to lose consciousness," – Ilona Kavaliova, a mother of many children from Barauliany, complains.
Some statistics
There are about 1100 children at each of the 13 medical districts in the Barauliany local council, when the allowable limit is 800. Three queues hustle round the pediatrician's office: visitors with appointment confirmations for certain time and without the time, and people without appointment confirmations. Sometimes, the pediatrician sees more than 100 children for a three-hour shift.
In the last nine years, the number of children in the Minsk regional clinic has grown from 4.5 thousand to 13.5 thousand. In total, about 50 thousand people live in the Barauliany local council. The construction of polyclinic facilities is envisaged in the adjusted general plan of 2017, but at the same time it is planned to increase the housing space by a quarter, and the population – by almost 10 thousand people.
What should be done next?
In order to achieve the fulfillment of their demands in the social sphere, experts advise citizens to appeal to deputies of all levels, create associations or use more unusual methods.
If they believe that their voice is not heard, they can initiate a local referendum. Undoubtedly, the Belarusian situation will not allow them to hold it, but such political activity of the residents, registration of the initiative group will have an impact. And at some point local authorities will say – "Keep away from us, here's your clinic," – Dzianis Kobruseu from the company General Plan For Minsk Citizens is sure.
In the meantime, whilst the authorities are busy with negotiations, and the new clinic exists only on paper, Ilona and her children are trying to get ill as seldom as possible.