Even Shanghai Got Tired of Lukashenka
40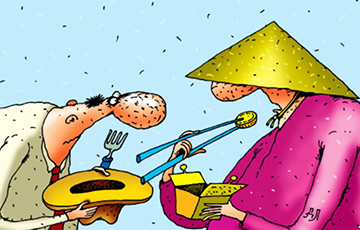 China and Kazakhstan no longer understand such methods of economic management.
Issues of economic cooperation and security are priorities of Belarus within the framework of the Shanghai Cooperation Organization (SCO). Lukashenka said this at the summit of the organization in Astana.
Speaking about the economic component of interaction, the dictator announced Belarus' intention to participate in ensuring food security on the continent and the desire to use its geopolitical position more fully to strengthen the ties between East and West. "We are ready to strengthen the role of Belarus as a bridge between Europe and Asia and invite partners to use this potential more actively," the press-service quotes Lukashenka.
The academic director of the BEROC Center for Economic Research Katsyaryna Barnukova said in an interview with Thinktanks.by that the intensification of economic cooperation with the SCO countries, as well as more active use of the geopolitical position of Belarus would largely depend on how understandable and transparent conditions for business would be created in our country.
"The geopolitical position of Belarus undoubtedly plays an important role. But we must remember that there are other transit countries as well. For example, Ukraine, which looks much more understandable and transparent in the eyes of the same Chinese companies. Yes, there is corruption in Ukraine, but this is not the thing that can make the Chinese business step back. But our ways of making decisions and interference of the state in all spheres embarrass them," Katsyaryna Barnukova said.
The expert noted that many issues including transit and supply of Belarusian goods for export were difficult to solve at a high state level, since they were usually solved at the enterprise level.
"The Belarusian authorities have an attitude that it is necessary to agree on the export of goods at the state level. In fact, this is the matter of two companies. Foreign companies decide whether they want to purchase MTZ and Gomselmash equipment. And here the key issue is the competitiveness of products, the combination of price and quality. After high-level negotiations heads of China and India can inform their countries about Belarus and its tractors. However, companies will finally decide where to buy machinery," Katsyaryna Barnukova believes.
In her opinion, the scheme of negotiations at the interstate level works only with a small number of countries. As a rule, these are republics of Central Asia with an authoritarian style of government. "We can supply agricultural machinery under agreements at the highest level to Turkmenistan. The situation with Kazakhstan differs, our appoach is not entirely clear there. This can be judged by the trade turnover, which is too low, given the size of Kazakhstan's economy, " the expert notes.