Alena Masliukova: Judicial System Is That Sort Of Cynicism And Insolence
6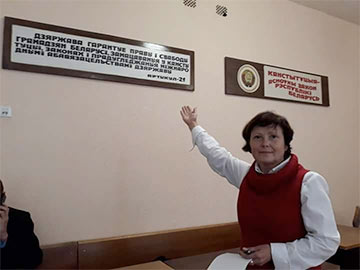 The human rights activist will appeal against the illegal decision of the Svetlahorsk court judge.
Ruslan Tsaryk, judge of the Svetlahorsk court, considered it inappropriate to call witnesses in the administrative case of human rights defender Alena Masliukova. She is accused of organizing a flash mob "Svetlahorsk – For Clean Air" on September 15, Radio Racyja reports.
The consideration of Masliukova's case was postponed from October 8 to the 9th following her application. The human rights activist demanded witnesses to the trial, not their written statements, as it was in the case of public activist Anatol Zmitrovich.
– Moreover, I have also specified that I categorically demand that in the event of their refusal, they are to be brought to the court under pressure, so that they could give their testimony, looking into my eyes. The judge considered it inappropriate, the witnesses were not summoned to court," – Masliukova says.
According to Alena Masliukova, the written testimonies are as if they were carbon copied. The judge himself laughed while reading them. Candidate of Philological Sciences Liudzmila Asinskaya, who was present at the trial, believes that they are written in the same style. The first lawsuit in Masliukova's life and the punishment with a fine of 25 basic units have brought her literally into shock:
– I know that people with one hand applaud, that the dumb from birth talk obscenities. It is impossible to fully understand all this until you yourself pass through it. This is that sort of cynicism and insolence.
Both Alena Masliukova and Anatol Zmitrovich will appeal against the unlawful decision of judge Tsaryk.