Videofact: Girl Refused To Give Way To Lukashenka's Cortege In Hrodna
108
19.10.2018, 13:04

210,750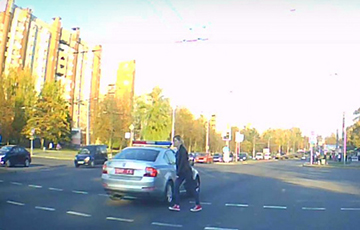 A resident of the city was crossing the street at a pedestrian crossing to a green traffic signal.
On the eve of Lukashenka's visit to Hrodna, his cortege arrived in the regional center. A convoy of several cars with signal lights and a siren turned on was moving in the direction of Gorky Street, along the intended route of the dictator.
One of the readers has sent the video to the editors of newgrodno.by.
The cortege was supposed to drive straight at the regulated intersection at the Golden Calf restaurant. At the moment, when the column was crossing the street, the light for pedestrians went green at the traffic lights. The girl, who, apparently, didn't care who was driving, started to cross the road to the green traffic light signal.
Caution, obscene language!