Lukashenka Repeats Fake News On '150K Ukrainian Refugees In Belarus' At Meeting With Poroshenko
46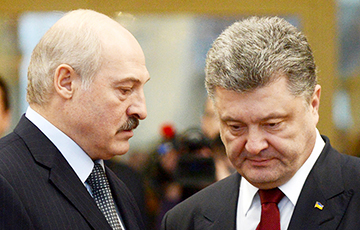 The dictator has been once again caught on telling lies.
The Forum of the Region of Belarus and Ukraine is taking place in Homel today. President of Ukraine Petro Poroshenko specially arrived to this event.
Lukashenka said the following as he met with the Ukrainian state leader:
"You might feel like it is similar to wonderful Ukrainian cities. No wonder, because the border is a stone's throw from here. It is home to many Ukrainians, citizens of Ukraine (in particular, in recent times) who moved here because of the conflict," the dictator noted.
According to Lukashenka, about 150,000 people resettled from Ukraine to Belarus during that period; some are already going back, BelTA reports.
According to the Department of Citizenship and Migration of the Ministry of Internal Affairs of Belarus, during 2014-2015, 1,642 citizens of Ukraine applied for refugee status or "for additional protection". Of these, only 1 citizen of Ukraine received official refugee status.
A temporary (per year) or permanent residence permit for the period from January 1, 2014 to July 1, 2016 in Belarus was received by 35157 citizens of Ukraine. These are mainly labor migrants.
And even information about the number of labor immigrants from Ukraine does not bring us closer to the cherished figure of 150,000. Make your conclusions: 2014 — 17,778 people; 2015 — 14,045; 2016 — 6,348; first half of 2017 — 3,489.
It turns out that Lukashenka lied, by the way, he had previously used this figure in his speeches.