New Scandal At Minsk Grammar School: Students March Along With 'Lenin So Young'
63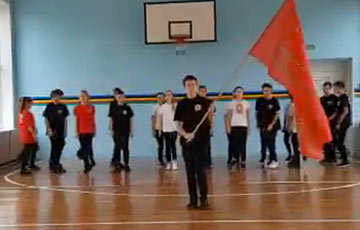 The flag of the Communist party was also there.
Hardly have the internet users ceased discussing the notorious BRYU situation, when another curious video appeared. In it, the 9th grade students of Minsk grammar school #3 march and dance along with the song "The Battle Goes On", the lyrics of which include "Lenin so young" and "young October is coming soon" kyky.org writes.
The second half of the video is accompanied by the song "Komsomol Guys Are Volunteers", so it becomes clear what this performance is about in the first place – the 100th anniversary of the VLKSM. The guys are wearing the Youth Detachment of Protecting Public Order T-shirts, this is a wing of the BRYU. This detachment, for example, helps the police to watch over the public order at mass events. The website claims there are 15 thousand guys and girls in it.
В Минской гимназии № 3 происходить какая-то дичь!
Коммуняки недобитки и сюда добрались. Коммуняцкие флаги, комсомольцы - добровольцы, вновь война....
Сука, это какой-то АД! pic.twitter.com/rbAYGKXWAi

— Krychek (@Krychek5) 31 октября 2018 г.