Videofact: Riot Police Detained Man In Fox Suit In Brest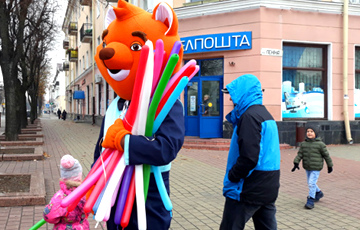 Lis ("Fox" – in English) is the name of the regional executive committee chairman.
A man in a fox suit came to protest against the battery factory in Brest. After the rally he was detained by the riot police. They are going to investigate whether it was a hit at the chairman of the regional executive committee, Anatol Lis, Radio Svaboda reports.
Another meeting of the battery factory opponents took place at the main square of Brest on November 11. It was attended by a man in a fox suit, who was giving "interviews" to participants, saying that he had come to support the builders of the plant.
After the rally, the man dressed as a fox was detained and taken to the police station.
Blogger Aliaksandr Kabanau has posted the video of the detention on his Facebook page.
We remind that since the end of February, silent protests against the plant have been held weekly at the central square of Brest. The protesters invited officials, including Brest Regional Executive Committee chairman Anatol Lis, but they never came.
The protest against the battery plant in Brest arose in early 2018, when Brest residents found out about its construction. People are afraid that the plant will harm their health and the environment.