Mr. Fox From Brest Walks Free
7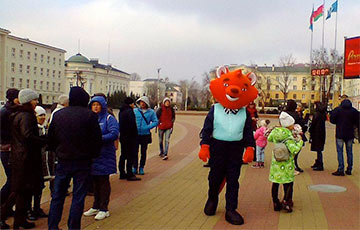 The activist wearing the fox outfit was detained yesterday at a protest action in Brest.
Another action of the protesters against the construction of a battery plant near Brest on November 11 ended in detention of one of the Brest activist Kanstantsin Astapuk, the human rights center "Viasna" reports.
He came out to the Lenin Square, where over 130 people had gathered by the moment, wearing the fox outfit, and brought balloons which he handed out to the children.
When Astapuk tried to leave the square, he was detained by the riot police and delivered to the Leninski district police department of Brest.
According to the information provided by the human rights defenders, the police made an administrative offense protocol under Article 23.34 of the Code of Administrative Offenses with regard to Astapuk, and placed him to the temporary detention facility till the trial.
As reported be Astapuk's friends, he was released from the detention facility without charge or trial.