Zmitser Bandarenka: Parasites of All Countries, Unite!
80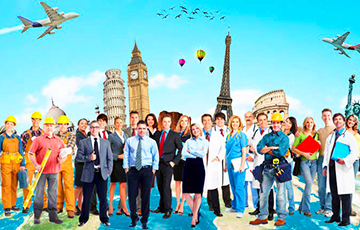 To secure a family, one has to be categoric about providing information about place of work abroad.
The database of the "not involved in the economy" is created until December 1; since January 1 "parasites" will receive new 100% rent bills.
At that, Belarusians working or studying abroad are enlisted as parasites automatically.
Why do the authorities pay attention to this stratum? What does really stand behind Decree No. 1 and "parasite" database?
Coordinator of the European Belarus campaign Zmitser Bandarenka answers questions of Charter97.org:
- The reason is clear - the country lacks money. Only the service of an external debt costs around 15% of GDP.
The regime lacks money to pay pensions. There are arrears in wages. The authorities look for every opportunity to raise money.
According to official statistics, there should be 5 million 700 thousand employed people in Belarus. In reality, today there are only 4 million and 300 thousand people who pay taxes. That is, around 1.4 million citizens do not pay taxes in Belarus.
The majority works or even lives abroad. Migrant workers support their families and often do risky work, especially in Russia. At least 1.5 billion dollars or even more they bring to the country. But the government does not realize it and wants these people to pay more.
There are several hundreds of thousands of the unemployed who somehow survive being involved in the "grey economy", which makes up a certain percentage of GDP in every country. There are people who have a seasonal work, as well as those who live on pensions of parents, near-border trading which is being increasingly tightened now. This is how the situation looks like amid imposition of Decree No. 1.
- According to the authorities, until January 21 Belarusians working and studying abroad should provide commissions with a certified translation of their labour agreements or other documents proving their income. The previous version of the decree did not have this option. Why did they take such a step?
- It's questionable.
First, the authorities try to control all Belarusians. They want to put pressure on people living and working within the country using those working abroad. And it's easier to pressure these working abroad through "hostages" remained in Belarus.
I will never believe that all of a sudden Lukashenka and the government have become aware of the image of Belarusians abroad. A Belarusian should work in every country because the state is responsible for him. So that the person could not become a "parasite" in Poland, Sweden, France, Russia, or Norway. And he should provide the state with evidence of his work there.
In reality, both Belarusian and Russian special services stand beyond this. This database should be undated every three months. One cannot provide a certificate once and for all.
This database will help special services of Belarus - the KGB and Russian FSB work together - to make up the agent network abroad. If people provide data about their workplace, their relatives may be jailed in Belarus and be told: your relative should pay for your release. Special services may threaten with problems to relatives in the country and thus force people working abroad into cooperation.
It should raise an increased concern. After all, it poses a direct threat to the national security of countries Belaruians work in. And many of Belarusians have double citizenship.
Second, the authorities aim to withdraw property of Belarusians working abroad. As soon as these database is made up, it will be clear who, for example, lives in the USA and has an apartment here, rents it out and even pays taxes for it. It means that the property should be "seized".
It's already known how empty houses will be seized in the rural area. The same principle will work in cities.
- What should people working and living abroad do? What is a principle to follow?
- I guess people must ignore this data provision, because it poses a direct threat both for people living abroad and their relatives in Belarus.
The first stage involves database regarding those living abroad and having property in the country. The next step is database extension by citizens with the residence permit in Belarus.
Many people living abroad have double citizenship. And they will start renouncing Belarusian citizenship. The number of people tied to Belarus will drop. The authorities do their best for it, and this step is needed not to pay a penny to the regime.
I would offer Belarusians abroad to recognize their interests. Perhaps, the fund for resistance to Lukashenka should be initiated. It could support independent media, democratic organizations and civic society of Belarus. It may be the way to stand for their rights and finally return to a free and normal country.
Legal defense is another option. Because current events violate international obligations of Belarus. The Constitution has its force both within and out of the country. According to it, labour is not an obligation. Decree on "parasites" is already a crime.
Belarusians living abroad should inform local mass media - American, German, Polish... - about the situation here. The problem should be raised; there should be sanctions imposed on Lukashenka who introduce 100% totalitarianism against citizens. This is how Belarusians can protect themselves and their relatives.
- Decree No. 3 was suspended in 2017. Can it be done again? What should be done?
- Protests of 2017 showed the efficiency of combined efforts. The government abolished the decree. Now it is trying another tack. But these decrees of Lukashenka have no legal background.
I guess that a half of the population in the country - people within the country and relatives working abroad (1.5 million) - will experience the decree and they will not pardon the authorities for it. Solidarity and activity are required. We should take a stand together.
In 2017 Belarusians proved their ability to resist. People saw no "division" between them: dwellers of Vitsebsk suffer the same problems as dwellers of Brest, Pinsk or Vaukavysk.
Lots of thanks to those politicians who dared to visit cities during protests, to support people, to participate in actions. I'd like to mention those indifferent who became regional leaders, who broadcasted live on protest actions.
The authorities managed to shut some people up, but there are people who keep resisting.
In the light of the new edition of the decree on "parasites" I have the feeling that some forces destabilize the situation within the country. Hundreds of thousands of Belarusians will break their ties with Belarus, dozens of thousands of families will decide to seek permanent residence in other countries. I believe that it is natural for people to look for an asylum abroad when they are subject to financial persecutions, violation of their rights (the database).
Now people leave for better life, but because they are being repressed by this authoritarian state.
Some people will resist. I think that the decree, not at once, will be abolished as a result of individual and collective protests. Parasites of All Countries, Unite!