Anatol Myshkevich: 90% Of Belarusians Remember About Abducted Politicians
15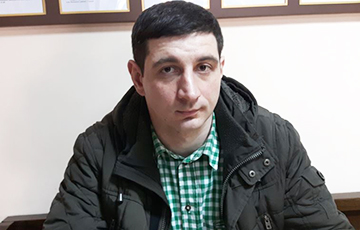 The Hrodna resident was fined $ 150 for a poster with the abducted politicians.
Hrodna activist Anatol Myshkevich has to pay 343 rubles for an event, dedicated to the Belarusian politicians who disappeared almost 20 years ago. This decision was made by the Leninski district court of Hrodna on October 15, Radio Svaboda reports.
According to the court decision, Anatol Myshkevich violated the "order of holding mass events" (Article 23.34 of the Code of Administrative Violations of Belarus) and has to pay a fine of 14 basic units.
On September 16, Myshkevich put on the wall of one of the houses a poster with photos of politicians who disappeared in 1999-2000: former Interior Minister Yury Zakharanka, Acting Chairman of the Supreme Council Viktar Hanchar, businessman Anatol Krasouski and journalist Dzmitry Zavadski.
The activist did not admit his guilt. But he will not appeal against the decision of the court, because he does not see the point.
"I see nothing wrong with remembering these people. Probably, 90 percent of Belarusians think the same. A lot of people have told me that it's good if at least someone remembers them," – Anatol Myshkevich commented.