Komlik: Anything Is Possible In Our Country
3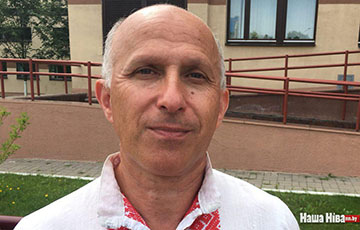 Why don't investigators return equipment to the trade union leaders?
The decisions in the "trade unions case" have been already made by the district and Minsk city court, and the investigators still do not return computer equipment, which they took during the search in August last year.
"It looks like a mockery of common sense," leader of the independent REP trade union told palitviazni.info.
On November 9, leaders of the REP Trade Union Henadz Fiadynich and Ihar Komlik appealed the verdict of August 24, 2018, by which they were considered guilty under Part 2 of Article 243 of the Criminal Code of the Republic of Belarus ("large-scale tax evasion"), in the Minsk city court.
The court of the Savetski district sentenced the leaders of the REP Trade Union to 4 years of restriction of liberty without being sent to specialized institutions with the prohibition to occupy leadership positions for a period of 5 years. In the appeal, the trade union leaders asked to stop this criminal case, but the Minsk city court upheld the decision of the district court.
The Minsk city court upheld the decision of the district court.
"The investigators have not yet returned the computer equipment, despite the fact that the case has been already considered by two courts and more than a year has passed since the computers were taken away," Ihar Komlik notes. "But anything is possible in our country." The "partiots' case" did not reach the court at all, and people only got the equipment back almost a year later."
According to Ihar Komlik, they made repeated requests to return the equipment, but the investigators said that they still needed it themselves.
"For what? Nobody knows," says Ihar Komlik. "It looks like a mockery of common sense. Everyone understands that this equipment is gathering dust somewhere in the warehouse, but they don't give up on principle. It is also unknown in which condition they will return it. Once our union had already been searched, and then they also took the equipment. So they returned it in the absolutely inoperative condition. They burned all the boards deliberately, so the computers turned into scrap metal. They do everything to make it harder for us to work."