Lukashenka To Aliyev: We Are Very Close People
25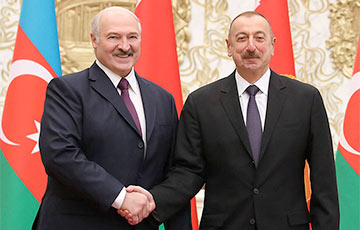 The Belarusian and Azerbaijani dictators met in Minsk.
Today, Azerbaijani President Ilham Aliyev arrived in Minsk, the press-center of Lukashenka reports.
"Belarus was waiting for you. There was a lot of information about the official visit. There were different reasons for this. Sometimes fake. Although this is also the result. Even the negative information that is not true is also sometimes positive. There was a genuine interest in your visit. We have been waiting for it for a long time. They talked a lot about Azerbaijan," Lukashenka said.
"I want to once again confirm and assure that there will never be prohibited topics in our relations. We lived in one state. We are very close people. Our roots go back to the Soviet period. Probably, 10–15 generations ago, our compatriots had good relations with yours, " said the dictator.
The dictator warmly welcomed Ilham Aliyev to Belarus.
The arrival of the Azerbaijani dictator in Minsk takes place against the backdrop of an international scandal between Armenia and Belarus. Acting Prime Minister Nikol Pashinyan stated that he demanded explanations from the rulers of Belarus and Kazakhstan Aliaksandr Lukashenka and Nursultan Nazarbayev in connection with their statements about the situation in the CSTO.
During a meeting with the ambassador of Azerbaijan on November 12, Lukashenka said that he saw three possible candidates for the post of CSTO Secretary General if the right to appoint the head of the organization passes to Minsk. Nazarbayev, on November 8 in Astana after the summit of the heads of the CSTO member states, noted that, in accordance with the organization's charter, the representative of Belarus should be the new Secretary General, in alphabetical order.
Also Minsk, despite the protests of Yerevan, supplies Baku with multiple launch rocket systems "Polonez".