Tax Authorities Start Witch Hunting For Belarusians Who 'Live Above Means'
26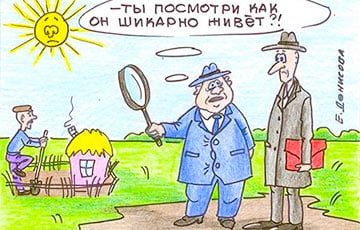 The Ministry of Taxes and Dues will impose higher income tax on the guilty.
The Ministry of Taxes and Dues demands that 20-25 thousand individuals should submit annual confirmation of income, but not all of them can do this. This was announced at a press-conference on November 9 in Minsk by Andrei Kavaleuski, the head of the department of taxation of personal income and property of individuals, reports tut.by.
Andrei Kavaleuski reminded that since 2003 Belarus has a law on declaring incomes and expenses of citizens, and every year the tax authorities analyze the income and expenses of individuals who have made major purchases, BelaPAN writes.
"There are cases when expenses exceed revenues. If the tax authorities have such questions, they can request from an individual a declaration in which the citizen is obliged to inform about the sources of their income," Kavaleuski said.
According to him, the Ministry of Taxes and Dues annually analyzes incomes of an average of 20–25 thousand individuals, to whom questions arose due to the disparity between the scope of official income and actual expenses.
"About 5 thousand citizens cannot officially confirm the sources of their income and pay an additional income tax," Kavaleuski explained.
At the same time, he clarified that in this case, citizens are obliged to pay an increased income tax - at a rate of 16% - for the difference between actual expenses and official income.
"Citizens in this case pay income tax at a higher rate. No penalty or administrative liability follows. Administrative responsibility (penalty sanctions - edit.) arises only in case of non-payment of the presented tax within 30 days," said the representative of the Ministry of Taxes and Dues, answering the clarifying question.
In the tax authorities, there is an automated system that allows you to compare information about how much a person earns and how much they spend. For example, the database contains information about the salary at the main place of work, about remittances received from abroad, now the information about loans and currency purchases will also be added. In addition, the base "sees" expensive purchases: apartments, houses, vehicles, garages.
Herein, the procedure for submitting information on citizens' incomes will be changed in Belarus since January 1, 2021, according to the Office for Prospective Development and Information Transparency of the Ministry of Taxes and Dues. In this case, the procedure and terms for submitting such information will be established by the government. This is provided for in the draft amendments to the Tax Code.