"A Shovel for Every Official to Remove Snow"
42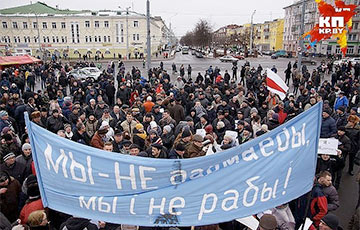 500 thousand "parasites" will burst with applause.
Since December 1 the "parasite" database has come into force. The most interesting thing is that even working people receive "letters of happiness". It gets worse and worse as it goes on. People who pay income tax are also added to the list.
Minister of Labor Iryna Kastsevich says that "parasite" database includes 500 thousand. It will be recalled that last time 470 thousand people fell under the decree. It turns out that despite "vacancy fairs", "hard work" officials reported on, the number of "parasites" have only increased.
Leanid Zaika, the head of the Strategy analytical center, answers questions of Charter97.org.
- As a scientist, I cannot see any sense in these calculations. What can these 500 thousand people be blamed for? That they are communists and do not want to work under agreement? If I was an official, I would not worry that a half a million people do not work.
My American colleagues voiced 3.5%. This is the number of people in society who can have no job. Then they raised it to 5-7%.
Why are our officials so concerned about this figure? Minister Kastsevich was ordered to count them and she did it. Then it was done in the regions. However, the principle it's based on is not known.
When Lithuania was going to join the EU, it was asked to count socially inept people. It made up 1.5 thousand people. But it was a face-to-face method. How is it possible to count unemployed when you stay at the office? This is absolutely lame statistics with no social sense and scientific value. Dear officials, how did you make calculations? How did you find those people?
When I dealt with poverty and social deprivation issues, it was challenging for the state to find methods for counting such people. House administration was not able to provide them with those figures. Then medical practitioners were made to collect data about employment. And they were using foul language. . After all, they had to do this mess, instead of healing the sick.
As it turned out, teachers at schools may have the most reliable information. During conversations with schoolchildren they learned about jobs of parents and their salaries.
Again, it means face-to-face conversations. And the number of 500 thousand announced by the Ministry of Labour is an absurd. Guys, you'd better continue your education. Your figures are not reliable.
- But it's not obly about the unemployed. People working abroad, freelancers and others are also in the list.
- It's foolish to make everyone work. Well, there are 5% of people in my house who do not work and they will not. They raise money on leasing our their parents' apartments. Real estate in the center of Minsk costs around $600. Those who work hard can raise only $300. What is this for?
After all, private ownership may bring profit. To a motorbike, a bicycle, an apartment, a house, a summer cottage rent out. But people who have decided to rent the entire country out cannot realize it.
- What is the fate of the new edition of the decree on "parasites"?
- Do you know what a peculiar feature of a person of science? I cannot forbid anything. As a scientist, I can say that this decree has no scientific value. It's my opinion. And they deal with it only out of boredom.
I cited Lithuania as an example. The reason why they were looking for those socially unadjusted people. The EU needed statistics, they were increasingly interested in people who lived on junkyards. Homeless. Lithuania had to provide the data so that those people could receive the EU pension of $300. At that time it was more than a professor's salary in Belarus. Now the situation has not changed. Now Belarusian professors earn $350. I see the reason in actions of Lithuania. People got money. And what is the reason for the experiment of the Belarusian authorities? I cannot get it.
- What could you say to people who are enlisted as parasites?
- It's not hard to count. Let's do this. The Ministry of Labour has found 500 thousand "parasites" in Belarus. There 118 districts, let's take 100 for us to be easy to make calculations.
It turns out that there are 5 thousand "parasites" in every district. Let an official has the list of 4500 people. 20 names are on every page. After all, there should be a reason for listing. It makes up around 200 pages.
I imagine heads of districts. After all, Lukashenka ordered them to learn everything about every "parasite". How to talk to 4500 people? If 10 people have a meeting, it takes a year to talk to everyone. Meanwhile, the data become aged. Who does need this? Guys, do you have anything else to do? Everything is great only in theory, but when it comes to practice - it's a great challenge. And if you do not meet it and do not meet with a person and enlist him, it may cause conflicts. They do not need them. What is this for a rural head?
They will do a mess and then will scratch their heads.
I guess it will be easier for officials to come together and clean the streets of Minsk. I would be grateful for it. Eight hundred thousand people get money from the budget. Lukashenka personally voiced this figure. Just imagine them with shovels. It looks really great. A mayor and his secretary with long nail remove snow. And 500 thousand "parasites" applause and throw their hats in the air.
Let people know that they should ignore officials.