Belarusians Who Left Country 10-20 Years Ago Included In Base Of "Parasites"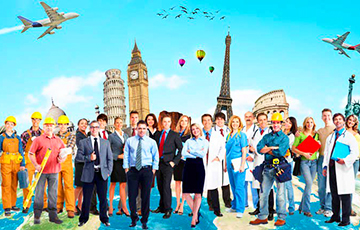 The Belarusians who left the country do not understand what the state wants from them.
The decree on the parasites is renewed – and the public commissions offering help to those who are on the list of 500 thousand official "parasites" have started working again. Among others, assistance to fellow citizens is also offered by the Legal Assistance to the Population human rights center. The head of the center, lawyer Aleh Vouchak, commented to Belsat on the renewed decree:
"First of all they call from abroad. Again, all the people are in a state of shock. Often these are those who left Belarus 5, 10, 20 years ago. They worry about what documents to submit. They say: we left, why does the state touch us? We are not in the country. This is the first category. Students call. And most of the people working in Russia.
We talked to human rights activists. The first decree is written in such a way that it is worse than the third one. There are lots of incomprehensible points in it, no appeal mechanisms offered. How do people get into the database? No responsibility! First of all, if a person has found himself in the database, he needs to repeat the same actions as two years ago. But this time, write a complaint not to the tax office, but to the city executive committee: on what basis I was included? Who included me? What were the sources? And also write that it does not comply with the Constitution, because a person has the right not to work. Believe me, today the state does not have enough jobs to provide people with a decent salary."