Journalist To Judge: Who Do You Serve, KGB?
8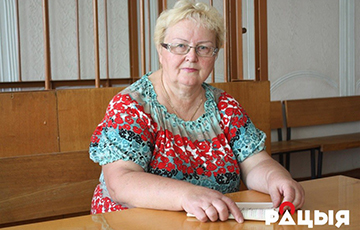 Tamara Shchapiotkina appeals the decision of the district court to the regional court.
The Brest Regional Court considered the complaint of the freelance journalist Tamara Shchapiotkina about the Biaroza district court decision. She was punished with a fine of 35 basic units for "preparing materials for a foreign media without accreditation," the HRC Viasna writes.
As human rights activist Uladzimir Vialichkin reports from the court, Tamara Shchapiotkina filed a petition that she was not a Radio Racyja journalist and attached a photocopy of the employment record book.
She claims that the Constitution and international law guarantee her the right to disseminate and receive information and express her thoughts.
"I'm not a Radio Racyja journalist, what am I doing here? I can't take pictures, I can't talk and write. Who do you serve, KGB?" – Shchapiotkina said.
Nevertheless, the judge of the regional court Ruslana Sianko decided to leave the decision of the Biaroza district court unchanged, and Shchapiotkina's complaint without satisfaction.
The journalist Milana Kharitonava was more fortunate – she appealed the decisions of the Leninski district court of Brest and the Kamianets district court under the same article 22.9-2 of the Administrative Code.
Kharitonava didn't appear in the court.
Judge Senko decided to cancel the decision of the district court and sent the administrative case to another judge.