Video Fact: How To Combat Lukashenka's Decrees
21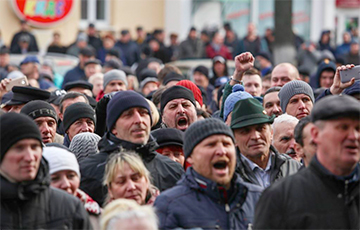 The theme has once again become timely.
Radio Liberty published a set of videos from the mass protest actions related to the Lukashenka Decree #3 on "social parasites", which took place in Belarus in 2017.
"Let us recall the protests against the tax for unemployment which were held in Belarus a year ago, as the theme has once again become timely," the media writes.
The database of "parasites" has started working in Belarus since December 1. Half a million people got there. According to Lukashenka's Decree #1, the database includes those Belarusians who will pay for the commuinal and utility services at full tariffs since 2019.
Civil activist from Vitsebsk, coordinator of the steering committee for the creation of the Belarusian Christian Democracy party Tatsiana Seviarynets believes that it is necessary to combat the "parasitic decree" with mass protest actions and total boycott of all the illegal decisions taken by the authorities.
"Resistance. Total boycott. We should boycott everyone, starting from Lukashenka with his ordinances and ending with those who will give out "parasitic certificates" in the "one window" service. Total boycott to all of these offices. Let us flip them a big fat bird.
Let us go to those executive offices and other places where the officials "nest", and say… No, not even say, but do. Not separately, somewhere in the regions, but all of us, together. Gather in Minsk and start changing this power. It must be changed. It's impossible to go on like this any longer. If two, five or even ten thousand come out – nothing is going to happen. But if it's 100 thousand and more – then it will be quite a different thing.
I, my kids – we have always been among protesters. We have always feel masters on our land. And when people come out to protest against the new decree on "parasites", I will be there for them," the activist said in an interview with Charter97.org.