"Lukashenka, Resign On Good Terms!": Belarusians Respond To "Parasite" Decree
33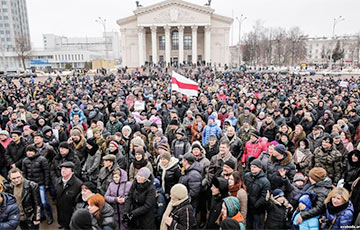 The situation may repeat.
On February 26, 2017, rallies against the decree on "parasites" took place in four cities of Belarus. The most massive rally took place in Vitsebsk – several thousand people took to the streets. 1,500 people took part in the protest in Babruisk. Hundreds of people came to the square in Baranavichy and Brest.
The situation may repeat, European Belarus coordinator Maksim Viniarski says.
"The fact of transferring people from the caste of "citizens" to the caste of "parasites" is an additional threat to the authorities. The authors of the decree do not take into account the fact that they violate the personal boundaries of citizens to such an extent that this can lead to an explosion of street activity. We can say that they are seeking this activity. Even those who are used to tolerating silently the quirks of the current authorities might take part in the rallies. We'll see, whether it's true or not," – Maksim Viniarski said.