Lukashenka: Belarusian To Become CSTO Secretary General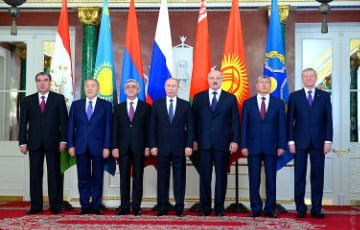 At the same time, Pashinyan's press secretary refuted Lukashenka's statement about the transfer of the post of CSTO Secretary General to Belarus.
Aliaksandr Lukashenka said in a brief interview to reporters on the margins of the EEU and CIS summits in St. Petersburg that he had actually managed to solve the problem of appointing the CSTO Secretary General, BelTA informs.
"We unexpectedly almost held a meeting on the CSTO. And in principle, we solved the problem of appointing the general secretary," – Lukashenka said.
Answering a follow-up question, Aliaksandr Lukashenka said that a Belarusian representative would be appointed CSTO Secretary General.
Press Secretary Arman Egoyan, Armenian Acting Prime Minister, refuted Lukashenka's statement to the News-Armenia news agency.
"As is known, there was no CSTO meeting. Armenia's position on this issue has not undergone any changes," – Egoyan said.