Peskov Refuted Lukashenka's Words About CSTO Secretary General
7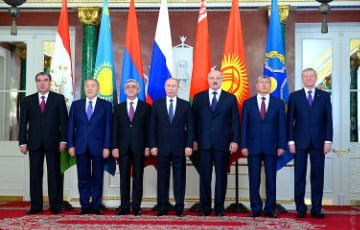 The dictator has acted in haste, repented at leisure.
The leaders of the CSTO countries have not yet resolved the question of the new candidacy of the Organization Secretary General. This was stated to journalists by the Russian Federation president's press secretary, Dmitry Peskov, commenting on Lukashenka's words that a representative of Belarus would take the post, TASS reports.
"No, the issue was not resolved," – the Kremlin spokesman said. He added that this topic had been touched upon by the leaders of the countries participating in the organization in St. Petersburg on Thursday, where the EAEU and CIS summits were held.
According to Peskov, Lukashenka proactively raised this issue at the EEU summit, although it was not on the agenda. "This is a completely normal practice: any head of state can raise issues that he considers important," – the Kremlin spokesman said. However, according to him, at that time not all the leaders of the CSTO countries were present at the negotiating table. The conversation on this topic was continued with them later at the CIS summit.
"The work will be continued," – Peskov concluded.
The fact that the issue with the candidacy of the CSTO Secretary General remains open was reported in Yerevan the day before.
We remind that on Thursday, after the meeting of the Supreme Eurasian Economic Council in St. Petersburg, Lukashenka said that the parties had managed to reach consensus on this issue and a representative of Belarus would become the new Secretary General.