Mikalai Statkevich: Belarusians Will Return To Homeland When Situation Changes
63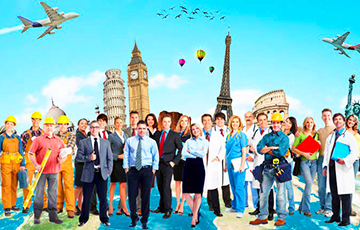 The decree on "parasites" will be abolished.
Half a million of our compatriots, listed as "parasites" - they are the people who could not find a decent job in the Belarusian economy, which is degrading thanks to the "wise" leadership. Most of them had to leave the country for more successful states in search of temporary or permanent job, one of the leaders of the Belarusian National Congress Mikalai Statkevich writes on Facebook.
From there, they not only secure a decent living for themselves and their families here in the Motherland. With htier many hundred million dollars, sent or brought to Belarus, they maintain a positive balance of payments and keep the Belarusian ruble afloat.
From the experience of the neighboring EU countries, we know that the vast majority of economic migrants return to their homeland as soon as the economic situation improves and wages increase. They come back with new work skills, advanced technology knowledge, or even basic capital for business organization. And they give a tangible impetus to the development of their countries.
By his decrees, the ruler turns Belarusian citizenship into a burden, forcing economic migrants to get rid of it by any means. He forces them to settle down in a foreign land with their families and closes the opportunity for them to return.
Thus, the ruler forever pushes the most dynamic part of people out of the country. That will inevitably lead to the degradation of the nation and the state. Does he plan to replace us with Chinese, or what?
We regard yet another attempt of the authorities to introduce the decree on "parasites" as an extremely dangerous action for the future of Belarus. In the near future, Narodnaya Hramada will discuss the current situation and decide on ways to counteract the dangerous plans of the authorities.