"Today - A Strike, Tomorrow - A Tax Boycott"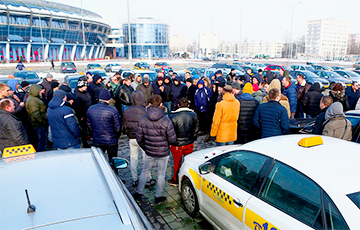 The protest action of taxi drivers is only the first shot.
Activist of the European Belarus civil campaign, taxi driver with 20 years of working experience Leanid Kulakou stated that when commenting Charter97.org on the strike of drivers of "123" service:
- My body and soul support these guys. Taxi drivers live a hard life. But I understand, it's not enough. The strike is the first step. But it must be followed by others...
It turns out that people read about the strike and say "taxi drivers defend only their interests."
Everyone knows that a taxi driver "overcharge" and lives in clover. In reality, he has to work 12 hours/7 days a week to earn for living. It's a hard job. They now have to pay taxes, fines, extortions.
- You used to work as taxi driver. What taxes had you to pay?
- You know, I can't even enumerate all of them. I had to pay almost for everything. Taxes are too high. The National Social Security Fund also requires deductions. Insuarance is subject to payment two times a year. I had to pay a lot to a machine man. After all, we can't afford ourselves new Maybach.
Relations with the traffic police is a different story. They come down on any detail and draw up a protocol. Fines made up the greater part of all expenditures. When I was fired from the taxi service I worked on my own and had to pay fines for parking. They were the most annoying.
And, I must mention the motor vehicle inspection. It's a hard blow to the budget. And "innovations" of the authorities. For example, taximeter. I spent $400. And two years later I had to install a new program. It cost other 200 dollars. In addition, taxi tariff rates fall behind the dollar exchange rate and car expenditure.
Does this enumeration make sense? The system is build up on the robbery tax raising. Only Drazdy live a lush life. They are occupants who send collectors. They want to know everything about you. We just support these spongers and parasites from Drazdy. The system is based on milking money. Lukashenka's power will collapse without our taxes.
- You said there should be other steps in addition to strikes. What did you mean?
- You know, fish stinks from the head. We should get rid of this "head" and not to hold it by the "tail". We can't earn anything because people have no money. Now a Belarusian can't afford to ride a taxi a lot. It happens everywhere. The society is driven into poverty by Lukashenka's 23-year power. "The head" of the system has decayed. And we still wonder what to do.
There is no time to think. Today we hold a strike, tomorrow we will carry out a tax boycott and stop paying. And the day after tomorrow we will take the Square. All of us. We feel no fear anymore. Over the past two years almost everyone has held his little protest. Someone has not paid the tax on "parasitism", someone works abroad and sticks two fingers up, someone went on marches of Angry Belarusians, someone bypasses the blocking and reads "Charter-97".
Everyone is a strong-willed partisan. A non-violent resistance fighter. Is it hard for us to unite? After all, everyone of us has already said "no" to this power. And has showed "a middle finger in his pocket". We do it every day! We curse them, hate them, break their rules, try to live without them. It will be logical to come together and take the Square. Our rights need protection.