Vorsha Resident: I Came Out With Poster "There's No 500 Here" To Depict Real Situation
23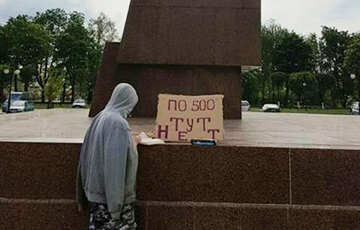 The one-person picket participant calls his actions "an act of despair."
28-year-old Raman has turned out to be the participant in the one-person picket that took place in the center of Vorsha on May 14. At a meeting with orsha.eu journalists, he explained his actions as "an act of despair."
According to him, at some point he was forced to quit his job, because he had to take care of his sick grandmother. He tried to start his own business, he even bought expensive equipment, but, for objective reasons, it bombed. Now he has to sell that equipment to pay for the communal services.
At the same time, the words from TV screens about "successes in the economy" just outraged him. So the guy came out with the poster "There's No 500 Here" to show the real situation. At that, he sent an e-mail "warning" to the executive committee, informing about the day and time of the picket. With this printed letter, policemen approached him, when he was reading a book with the poster near the monument to Lenin.
The court fined Raman 20 basic units – 490 rubles.
But it wasn't quite the end of it. As Raman told the reporters, policemen came to his house at about 18:00 on May 15, and issued a search warrant in connection with a routine about "insulting some official" – they didn't inform him, which official he could insult. As a result of the search, Raman's computer, printer, a removable disk and a flash drive were seized.