Lukashenka Should Sell Sand to the Sahara Desert
30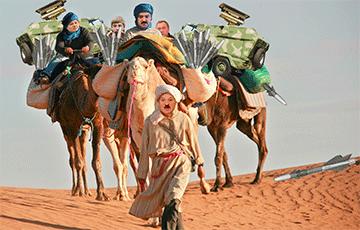 Economic warfare is the essential state of the "Slavic Brotherhood".
For six days already the Belarusian diary has been not allowed in Russia. These sanctions are open-ended.
On June 9 Rosselkhoznadzor (Federal Service for Veterinary and Phytosanitary Surveillance) and the Department of Veterinary and Food Control of Belarus signed the "road map". However, the major part of Belarusian dairy producers is still sanctioned.
Famous Belarusian film director Yury Khashchevatski comments on other "dairy war":
- This situation is common for the configuration we call the "Slavic Brotherhood". How is it possible to form brotherhood without beating each other?
"The elder brother" has chained up the junior one and called it "Customs Union", "Union of Belarus and Russia", "CSTO". And it pulls it when "bold brother" turns to others and pretends independent.
- Does it mean more political origin of the problem rather than an economic one?
- It is obvious. Lukashenka has long been warned about it. It happened. We have repeated that Lukashenka has been selling the country's independence for 24 years.
He's been warned about the end of the story. And now it's coming to the end. We can see the crisis Lukashenka has driven the country in.
It's completely clear that Aliaksandr Ryhoravich cannot run off this track. He has surrendered the Belarusian independence and now great efforts are needed to make it back. It will be the main task for future generations of Belarusian patriots and politicians.
And still we can observe Belarus turning into an agrarian country. Just think it over - dairy products are one of the main our exports! Who could believe it 25 years ago? Belarus was an industrial country that could produce high-tech and intellectual products, has to "blow on milk"...
After all, before Lukashenka came to power, we were ready for technological development, and now our economy means milk trade, oil refining trade and related smuggling. Look what we've come to...
The longer we look at this mess, the worse results our country reaps in the future. After all, it's a great step back.
- No progress simply means regression, doesn't it?
- That's right. You can see the new edition of "serfdom" appears, as well as the opportunity to rent workers out. I guess it's not even the 18th, but 16th century we are rolling back to. St. George's Day is about to come.
This is the natural state of our Slavic Brotherhood: to fester in trenches looking at each other through holes in milk cans.
- But the authorities are trying to prove that they are "looking for happiness" far away. Prime Minister Kabyakau has recently announced the creation of the "Belarusian milk cluster" in Mongolia. What do you think it will end with?
- Do you know what I would offer Kabyakau and his boss to do to "raise" the Belarusian economy?
- What?
- To sell sand to the Sahara desert. They want to sell milk in Mongolia, the sand in the Sahara desert is the same story. That would be great.
You know, everything they deal with means a complete mess. Just think over it - milk for Mongolia. That's all they are capable of doing. .
It's quite obvious they try to come up with new ways to sell something to gain some profit. They sell everything in Belarus to better their life in their mansions in Drazdy.
It's completely clear that all attempts are vain. Today the economy requires completely different ways of management. This course is subject to drastic changes, completely new approaches to the development of business, education, soft values are required. It's the only way to make a difference.
- Do Belarusians have potential to overcome Lukashenka's "activity" over these 24 years and to build a normal economy?
- The thing is that first it's needed to leave the Russian axis Lukashenka is moving around. The Russian economy is a commodity one for many decades or even for centuries. And not only the Russian authorities, but, speaking frankly, the Russian society behave like that.
They dream of gaining profit, having lots of money and doing nothing. In an ideal scenario, to steal and to raise money on kick-backs in Russia, to leave abroad and live a lush life there.
They try to make Belarus the same, which has become sponger-country. Today we follow the concept of the commodity country, although Belarus is completely different. We should live at the expense of innovative technologies and intellectual products. But it is all lost in the so-called "Russian world", not only a military, but mostly in a mental sense.
This "Slavic Brotherhood" has become the end of Belarusian opportunities and prospects.
- And what should replace it?
- There should be understanding of the position in the economic system of Europe and the world, map of goals and prospects. Then it becomes clear what is subject to development first. Perhaps, it's transit, transport, logistics, digital economy.
But it can be implemented in case of a complete release of Belarusians' internal reserves and their creative opportunities. I mean creativity in a broad sense involving not only artists and film directors, but IT-specialists, engineers, inventors, businessmen. A person should make benefit on his self-fulfillment, and not to be a slave of the state. Let it start from the "garage economy", the thing Ukraine waging a war is based on now. Free activity should provide with an opportunity to support family and save for the future. And the state should develop logistics and digital economy and abandon every possibility to "tap" into Russian pipes.
Belarus needs such authorities; otherwise, the potential of our people will go down in flames.