Anything For Your Money
69
Iryna Khalip
29.06.2018, 9:06

43,644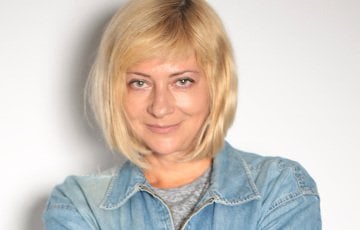 Don't lie, colonel.
If I suddenly found a few million dollars, I would also put together all military men in my courtyard, and let them march back and forth to entertain neighbors. And I would also organized fireworks to watch at them with neighbors standing on the twelfth floor. Attack jets would fly over our heads, and we would catch our hats by the peak (no parade is successful without peaks; the uniform of five-star rank I would take on hire in a theatre), and would argue whether mansard roof was demolished or not in the near future. Well, we would have fun, I guess.
However, we would not, even if I had millions. I would immediately remember that my parents spent a half of their pensions on medicines, which are not getting cheaper after arrests of higher officials in the health care sector. I would remember that children of my acquaintances suffer from infantile cerebral paralysis, and they need training devices the government refused them. I would remember that my parents had a pension unlike dozens of thousands of Belarusians. Anyway, our courtyard had no chance to become the ground for parades. I don't care, the asphalt would remain in good condition. And it was not in the city.
I do not see any sense to carry out this mean parade every year. It would seem that one time was enough to enjoy armoured vehicles with refrigerators on them, to sweat thoroughly in the uniform of a five-star rank in the sun, and to come back to Drazdy. Let this crowd swear that the city is blocked and planes are flying too low, which reminds of New-York of September 11, let them close windows on such hot days to lessen the sound of fireworks. After all, many children fall asleep after 11 pm. Is it a norm to carry out it every year? Isn't he tired of it, does he lack other entertainments?
There are lots of them. He does not have enough imagination. And the ceiling of his poor imagination is tin soldiers marching in the July morning sun and thundering fireworks, which wake up children late at night. Citizens are offered drinks and dances, and this is the ceiling of the chief commander. These marching columns is as the same as Gérard Depardieu and Ornella Muti served for a dinner for eastern partners. Toys, tin soldiers with heads of wood and eyes of glass. By the way, the partner has also problems with imagination; however, he has much more money, so he is able to send tin soldiers to a real war.
However, poor imagination is not a problem to distract people from the retirement age increase, parasite commissions, unemployment, growing prices. Let us ruin the asphalt for you to spoil all your arbor yokes; block roads for you to be late; arrange the gunfire late at night for your children to wake up; invite Pskov paratroopers for you to wonder why they are here and when they go away. Keep resenting about the parade and numerous rehearsals, and then it is followed by vacations, preparations for the next academic year; and you, citizens, may be knocked out for other several months. The spoiled asphalt will make you forget about prices and pensions.
In a word, anything for your money. In the truest sense of the word, of course. We pay for them to make holes in the asphalt and to block roads. But naive military men guarding fantasies are trying to persuade us we wanted it. Press-secretary of the Defence Ministry Uladzimir Makarau has recently stated that the vast majority of Belarusians adores parades and supports its annual holding. Don't lie, colonel. Belarusians do not like parades. They are not fond of being treated like fools.
Iryna Khalip, specially for Charter97.org