Vitsebsk Defender Of Kurapaty: They Won't Intimidate Us
1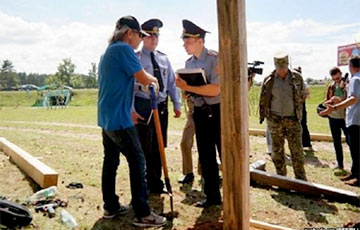 Mikalai Kachurets has said why he came to support the defenders of the tract.
On July 6, Vitsebsk residents Mikalai Kachurets took part in the Kurapaty watch and in the installation of crosses near the Let's Go Get Some Eats restaurant. So far, we know about one protocol, which was drawn up by traffic policemen for violating traffic rules (Article 18:23, Part 1 of the Administrative Code of the Republic of Belarus). There will be a trial, Vitsebsk Spring writes.
As Mikalai says, the protocol was drawn up in a while after he, together with Nina Bahinskaya, stopped a Nissan with Belarusian numbers in front of the restaurant gate. The owner of the car called the police.
"Some time later, the traffic police arrived. Nina Bahinskaya had already gone home, and I was alone. That man was called out of the restaurant and he pointed at me with his finger. I explained to the traffic policemen why I was standing there. They drew up a protocol. In order to get a copy, I only wrote that I had read and understood the protocol. They said that the case would be send to Kalvaryiskaya, I would get a summons to come to court. I replied that I would not go anywhere, whatever they sent to me," – Mikalai Kachurets explained.
The protocol states that Kachurets "was standing on the roadway, interfering with the traffic and the passage of vehicles."
Mikalai says that when they, together with Dashkevich, were installing crosses on the same day, the policemen came to note down his personal data. He thinks that he might get one more protocol.
When asked why he decided to travel from Vitebsk to the Kurapaty watch, Mikalai Kachurets replied that "he simply had to be there."
"I decided to go there long ago, but I did not know when it was better to do it. When I learned that during the rally on July 3, the participants were detained and that they sentenced Seviarynets and others to days of arrest, I considered that the protest should not stop. So I came to support," – Mikalai says.
"Fines, days of arrest – they try to frighten people with this, but they won't intimidate me," – the activist adds.