Russian Division, Which Occupied Crimea, Took Part In Lukashenka's Parade
42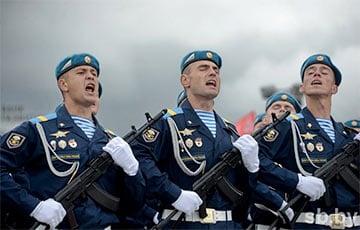 The Pskov Airborne Assault Division marched along the streets of Minsk.
Today, a parade to celebrate the so-called Independence Day has been held in Minsk. Four thousand servicemen took part in the parade, and a mechanized column drove along the city. For the first time, a ceremonial squad of servicemen of the People's Liberation Army of China took part in the parade. Traditionally, Russian servicemen participated in it. As it was noted by Charter97.org, the 76th Guards Airborne Assault Division (Pskov) marched along the streets of Minsk.
The 76th Guards Airborne Assault Chernigov Red Banner, Suvorov Order Division is the oldest formation of the Airborne Forces of the Russian Federation. It is dislocated in the city of Pskov. The spoken name is "Pskov Division". Some of its units and parts took part in the first and second Chechen wars, operations in Kosovo, Georgia and the annexation of the Crimea.
Its marines take an active part in the war on the territory of Ukraine. On August 21, 2014, the National Security and Defense Council of Ukraine announced that in the battle near Lugansk, the Ukrainian military had captured two combat vehicles of the Pskov Airborne Division assault party.
Earlier, the website of the "union state" noted that servicemen of the Pskov Airborne Assault Division Airborne were supposed to participate in the parade on July 3. 175 paratroopers were to take part in the parade.