Police Make Charges Against Kurapaty Defender For 'Down With KGB Restaurant' Poster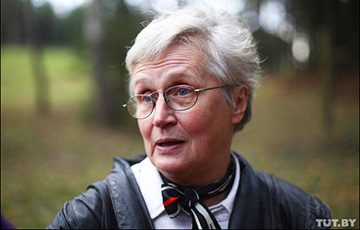 The police made a protocol against Nina Bahinskaya.
The policemen drew up a protocol against civil activist Nina Bahinskaya after the pensioner had come over to the "Let's Go Eat" restaurant in Kurapaty with the poster "Down with KGB Restaurant".
"As soon as she came with that poster, the police appeared. They took explanations from her first, and then drew up a protocol. Mrs. Nina told the police that it was her position: she believes that the KGB is somehow related to this restaurant, as it still works. However, the police finished the paperwork and left without detaining anyone," one of the picketers, bard singer Zmitser Zakharevich told Radio Liberty.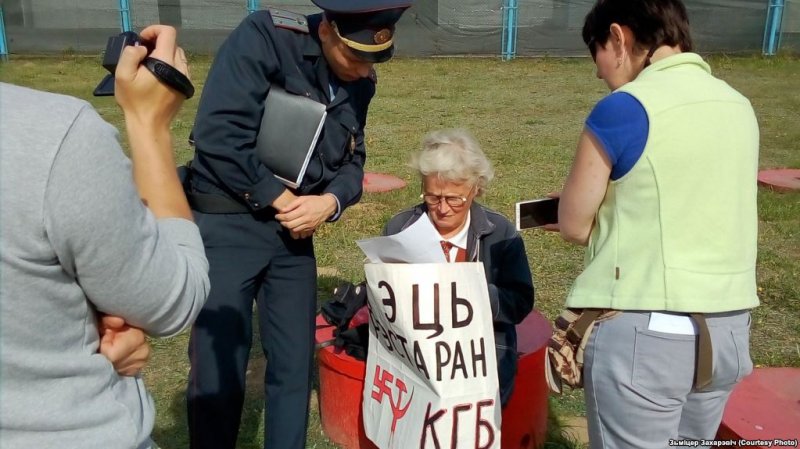 Have the state builders stirred up in Kurapaty?
The other news that Zmitser Zakharevich informed was that there was some activity taking place on the hill, which the people called the Calvary.
"The builders stirred up, put the pegs in the ground, thus marking the place for the future memorial, which will be installed on behalf of the state. I deliberately came over and asked what they were doing. They confirmed that it was the preparation for the installation of the memorial. They did not tell when they were going to install the monument itself though," Zmitser Zakharevich informed.
It was reported in June that the Ministry of Culture approved one of the projects of the memorial sign of "reconciliation and mourning" which the state plans to install in Kurapaty. Later, the project was criticized by the public, including the activists who defend Kurapaty now. Discoverer of Kurapaty, leader of the Conservative Christian Party of the Belarusian Popular Front Zianon Pazniak also spoke against the installation of the memorial sign.
"Their plan is to leak to Kurapaty with their concrete constructions and demolish the memorial. They should not mess with it. Their projects show there's nothing in them. It's ridiculous," Zianon Pazniak believes.