Archpriest Leonid Akalovich: Belarus Is Standing In Line For Tomos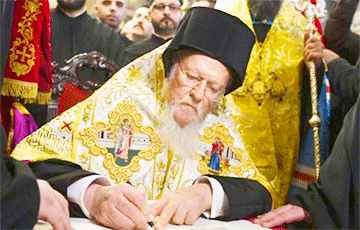 Receiving Tomos by Ukraine is a very important event for Belarus.
Today, the Ecumenical Patriarch Bartholomew presented Tomos to the head of the united Ukrainian church, Metropolitan Epiphanius of Kiev.
"This event is very important for Belarus. After all, Belarus, like Moldova, is in line to receive Tomos for its autocephaly," – Archpriest Leonid Akalovich from the Belarusian Autocephalous Orthodox Church says to Belsat.
There are good reasons for this. Before the church on the Belarusian lands entered the Moscow Patriarchate, it was also subordinate to the ancient Kiev metropolis.
"Kiev Patriarchate, is now part of the Ecumenical Patriarchate of Constantinople. That is a tangled scheme, and theoretically, with the change of power in Belarus, the question could become acute – like in Ukraine," – the theologian Julia Nagornova says.
According to Orthodox canons, the church department must still correspond to the state one. But Constantinople itself cannot impose independence.
"If a state has separated, then the church should also do so," – the historian Anatoly Sidorevich adds.