Belarus, Which Is Not On TV
Miksim Viniarski
1.10.2019, 10:40

1,615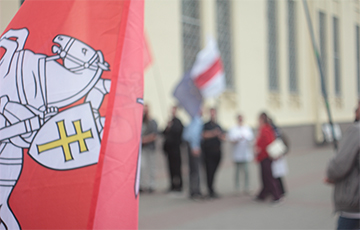 The activist of "European Belarus" observed how the propagandists were capturing the picket to collect signatures on video.
One of the coordinators of European Belarus Miksim Viniarski wrote in Facebook about the creation of the "antisocial state" in Belarus:
"Recently, I saw a BT crew filming a picket of "European Belarus" to collect signatures at the gates of Gorky Park. It was clear from the TV workers that the plot would be about a "handful of dissatisfied" with the dictator and his management.
At about the same time, a ninety-two-year-old woman, a veteran and a former long-term employee of the Belarusian Medical University, was freezing on the fifth floor of the neighboring house named after the Red Army commander Frunze. Valorous utility workers of Partyzanski district turned on the heating in the house, but did not care to check whether the heat reached the top floor. Surely, who cares about a person, who trained doctors of our country for 50 years, if she is retired? The woman's only son died, and there is no one to help her solve the problem with the housing and utilities call center answering her: your number in line is 817.
Both the fighters of the information front and the so-called social workers don't care about it. And everyone else, including the acting deputy of Partyzanski district. However, with this attitude, she is certainly not his voter. And now, without fear of anything, she says openly what she thinks about their entire "vertical of power", including the head from which this fish rots.