Andrei Sharenda: Both Elderly And Youth Are Fed Up With This Power
5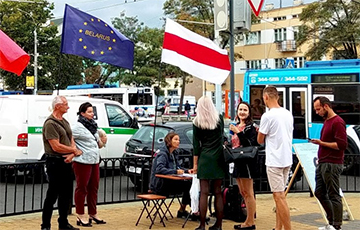 When collecting signatures, the way people live arrested attention.
Coordinator of the European Belarus civil campaign from Brest Andrei Sharenda has commented on the results of the campaign to the press service:
"What I want to note at the stage of collecting signatures is that people want changes. I would like to express my gratitude to all those who collected signatures for Palina Sharenda-Panasiuk, to those who signed for her. I can say that we have visited thousands of apartments, and I can say that the people were not choosing us, but choosing the possibility for changes. People are very tired, they are eager to change the power - this is the main thing that was determined at the stage of collecting signatures.
25 years of Lukashenka's rule have shown that Belarus is going to a dead end. And we have to act if we want to change something in our country. People were proposing their own variants of actions during the signature collection. Everybody wants to show the worth, but people just need to be encouraged, shown the right direction.
As for the door-to-door visits during the signature collection. It was very interesting to see how different people live. We went to different districts, including those where administration workers, people from the government, officials live. There was good furniture in such apartments, the tenants of these apartments were telling us that they had already signed up and knew who to vote for. In response to our objections that there were no "elections" and that there can be no elections in principle, these citizens were saying that they had such a job and they were "obliged to vote". Despite the fact that these statesmen have good furniture in their apartments, lavish lifestyle, we feel sorry for them, because they have driven themselves into slavery.
On the other hand, as opposed to officials, the way pensioners live arrested attention. It refutes all TV statements that they "receive state support and live well". We visited the apartments and saw the real picture, when even the furniture of the elderly people is from Soviet times, we saw poverty in the apartments of the elderly people. It is clear that pensioners do not want to put up with it and want to live as other do. The old people do not want this Lukashenka, with all his gang, exactly the same as the young people.
It's time to act. The situation in the country is simply unacceptable! The regime has led the country into a dead end, into unemployment, into hopelessness. The regime has led to the situation when Russia dominates on our country, when Russia builds a dangerous nuclear power plant here. It is clear that there are no elections in the country, that elections will take place only when Lukashenkoa's regime is not here. But we can use these pseudo-elections to organize people, to express our discontent in mass.