"If Anybody Find Out About This, We Will Take You To The Forest"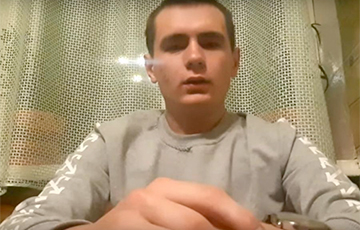 The Polatsk blogger has spoken about the tortures in the police.
19-year-old blogger from Polatsk Raman Liaukouski published a video clip in which he claims that he himself called the police after he was not given a book of complaints and suggestions at one of the Polatsk shops. According to the guy, for some reason the criminal investigation officers came, detained him and took him to the Polatsk police station, the HRC Viasna writes.
"They brought me to the police station, confiscated my phone and personal belongings and took me to the third floor. Then they took me to the office with three people. When I came in, the door was locked. They ordered: "Take off your jacket!" I took off my jacket and they checked my pockets. Then one of the officers threw it on the floor, and when I asked why he should do that, he replied, "I'm going to take it now and wash the floor with it," - Raman Liaukouski says.
"Then they ordered me to undress completely, and then one of them, a great hulk of a man, got my hand around my neck, threw me on the table and was strangling me for five seconds, then threw me to the floor, put his knee on my chest and was strangling me at the same time. I realized that I was suffocating, my body got soft, and he let me go... After I got up, the same guy pulled out a baton from the closet and asked: "Do you know how it walks on the body?" - he continues.
"We can piss on you and shoot it on the phone because you won't tell anyone anyway". They threatened to take me to the "brats", "to stick a phallus ..." - the blogger says.
According to him, the police demanded to unblock the phone, and then deleted some videos from the phone.
"If anyone finds out about it, we'll take you to the woods ...", - the police department employees promised. The blogger gives the name of one of the policemen - Aliaksandr Lapatsin.
Raman Liaukouski told Vitsebsk Viasna that no protocols had been drawn up at the police station. He says that the next day he applied to the prosecutor's office and the Investigative Committee. He did not verify injuries, as no signs of beatings had been left on the body.